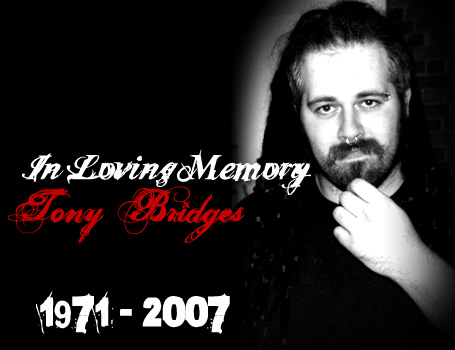 On Saturday, March 10, 2007, the world lost a very talented individual, Mr. Anthony "Tony" Joseph Bridges. He died at the age of 35.
Tony Bridges was a gifted artist who could draw, paint, and sculpt, in addition to his amazing abilities as a special effects artist. He was also a talented musician, playing drums, performing lead vocals, and writing songs for the ghoul-punk band Crypt 33.
Most people found Tony intimidating upon first seeing him. He was a big, imposing guy, with wild dreadlocks and face piercings. Furthermore, his stage presence during a Crypt 33 show could be downright evil! But when Tony was off stage, as soon as he first spoke to you, all fears were put to rest. He had a calm voice and his demeanor was always relaxed and friendly. The term "gentle giant" was sometimes used to describe Tony.
I first met Tony Bridges at Jefferson College in Hillsboro, Missouri. Our first collaboration was in 1992. We worked together on my student project, THE FINE ART, for which Tony did some special effects work in addition to a series of paintings. About a year later, Tony was working with me again, this time on the special effects packed horror movie SAVAGE HARVEST. For this project, Bridges was the primary effects artist, contributing a mountain of makeup and gore effects. These Tony Bridges effects are the primary reason why SAVAGE HARVEST developed the cult following it has.
A couple of years later, Tony Bridges was one third of the three-man effects team on ICE FROM THE SUN. Bridges also played a small part in this film. Later, Tony provided some effects work on SCRAPBOOK, shot in 1998.
Then Tony Bridges joined the band Crypt 33. The debut album "Headless" (completed around the turn of the millennium) quickly gathered a huge following, despite the fact that it could only be purchased at Crypt 33 shows. (Quite a few tracks from this album can be heard in various independent movies.) While Tony still did effects work from time to time, his primary focus was now on his band.
Tony contributed special effects work to his own music video when Wicked Pixel Cinema shot the video for "Zombie '79" off the "Headless" album. This video, shot in 2006, would end up being the very last time Tony Bridges contributed special effects to a project.
In March of 2007, the eagerly-awaited second album from Crypt 33 was in the final stages of completion. Attendance at Crypt 33 shows had been growing and the crowds were always energetic to say the least. A music video (for the new song "Four Bullets") was being planned by Wicked Pixel Cinema. And then Tony Bridges vanished from everyone's lives.
The funeral services for Tony Bridges were held on March 15, 2007. Tony's ashes were scattered at his mother's gravesite.
Wicked Pixel Cinema, Crypt 33, Tony's family, and all of Tony's fans are deeply saddened by the passing of this great artist. Tony was not only a talent to be admired, he was a beautiful human being. He was a joy to collaborate with, and his personality was full of warmth, generosity, and humor. He will be missed by all who knew him.
– Eric Stanze
TONY BRIDGES FILMOGRAPHY 
1993 – SAVAGE HARVEST (Feature) – Special Effects
1996 – ICE FROM THE SUN (Feature) – Special Effects, Actor
1998 – SCRAPBOOK (Feature) – Special Effects
2002 – DEFIANCE (Feature) – Special Effects
2006 – ZOMBIE '79 (Music Video) – Special Effects, Actor