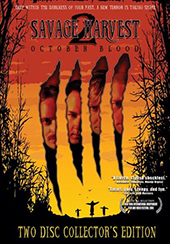 SAVAGE HARVEST 2: OCTOBER BLOOD
Deep within the darkness of your past, a new terror is taking shape.
Tyge Murdock, a successful director of low-budget horror films, has been chasing monsters his whole life. When an actor is accidentally killed on the set of his latest production, Tyge returns to his hometown to reassess his life. But all new nightmares await him there… His path soon crosses that of Ashley Lomack, his high school sweetheart who vanished from his life after a gruesome mass murder ten years earlier. The sole survivor of this massacre was Ashley's older sister Mikki. Consumed by the rumors of demonic possession surrounding the murders, Tyge soon finds himself trapped in a deadly chain of events. The demonic forces erupt once more for another night of terror and carnage. Tyge, Ashley and their friends must now unravel a bizarre mystery as the night of gore-splattered violence engulfs them!
Emily Haack
Benjamin Gaa
Eric Stanze
David Propst
Ceily Davis
Jonathan Baker
Julie Farrar
Anna Knobeloch
Eric Spudic
Lisa Morrison
Two Discs. NTSC All Region. Dual Layer DVD-9. Dolby Digital Stereo.
Aspect: 1.33:1
Rating: Unrated
Commentary track by director Jason Christ.
Commentary track by FX Artist Patrick Voss, Executive Producer Eric Stanze, and Director Jason Christ.
Commentary track by actors Emily Haack, Benjamin Gaa, Eric Stanze, and David Propst.
Behind-the-scenes documentary.
Deleted scenes with optional commentary by director Jason Christ.
Blooper reel.
Still photo montage.
Preview trailers.
"Aunt Linda's Medical Video"
Three short films by Jason Christ.
Written and directed by Jason Christ.
Produced by Jason Christ, David Propst, and Eric Stanze.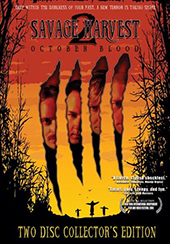 "Very well written... Wicked Pixel continues to lead the way by producing the finest independent movies to come out of America..."
Carnival Of The Grotesque, United Kingdom
"An original and compelling film... an otherworldly nightmare."
"Unexpectedly mesmerizing.  Suspenseful, gory, and vicious."
"An intense vision of high-impact, blood gushing gore.  A fun roller coaster ride...  exceeds where other sequels fail."
"Smart horror... Extremely well done."
" ...gives out big dollops of well-written characterization atop its meaty stew of violence. A sequel done right."
"An impressive sequel... Gorehounds will be pleased... Check it out today!"
"Packs a punch... This movie is pretty damn cool."
"Engrossing... A fun, inventive, and character-driven horror film... A sequel that delivers."