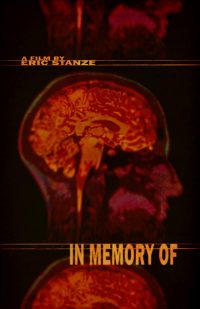 Sometimes it's better to forget.
When a medical experiment turns into a blood-soaked nightmare, the only surviving subject flees for her life. Painfully missing her most precious memories of childhood, pummeled by horrific hallucinations, and pursued by those who stand to profit from her damaged brain, Amber Sheridan embarks on a cross-country road trip to track down a mysterious stranger – the one man who has the ability to end Amber's madness, and restore the memories that have been stolen from her.
Jackie Kelly
Jason Christ
Adam Ahlbrandt
Emily Haack
DJ Vivona
Jim Ousley
Gus Stevenson
Haley Jay Madison
Jason Allen Wolfe
Katie Groshong
Two-Disc Collector's Edition.
NTSC All Region ABC.  Disc One: 50GB Dual Layer / Disc Two: 25GB Single Layer
1080p High Definition /16×9 Widescreen
Rating: Unrated
Commentary track by director Eric Stanze.
Commentary track by actress Jackie Kelly, actor Jason Christ, and director Eric Stanze.
GRAY MATTER – original music score featurette.
Deleted scenes with optional commentary track by director/editor Eric Stanze.
Preview trailer.
THOUGHT PROCESS: The Making Of IN MEMORY OF – 93 minute behind-the-scenes documentary.
Directed by Eric Stanze.
Written by Jason Christ, Jackie Kelly, and Eric Stanze.
Produced by Jeremy Wallace, Trevor Williams, Jackie Kelly, Eric Stanze, Jason Christ, and Jason Limberg.
Shot in Illinois, Missouri, Oklahoma, Texas, New Mexico, Arizona, and Utah, this sprawling journey through madness stars Jackie Kelly (TENNESSEE GOTHIC) in her feature film debut. IN MEMORY OF also stars Jason Christ (RATLINE), Adam Ahlbrandt (director of CROSS BEARER and THE CEMETERY), Emily Haack (SCRAPBOOK), DJ Vivona (ICE FROM THE SUN), Haley Jay Madison (SCAREWAVES, HEADLESS), and Katie Groshong (A MEASURE OF THE SIN, JUG FACE).
IN MEMORY OF features original music score by two-time Grammy award-winner Rocky Gray, former drummer for the multi-platinum band Evanescence.
"Intense and unnerving... Highly recommended."
- Nathaniel Thompson, Mondo Digital
"A disturbing and disorienting fever dream... an unsettling journey... truly a welcome return for the thought-provoking director."
- Heather Wixson, Daily Dead
"Absolutely stunning… packed with unsettling, hallucinatory imagery… another standout feature from one of the most interesting filmmakers in modern independent horror."
- Jason Coffman, Daily Grindhouse
"Highly recommended. An unremittingly creepy municipality of the mind where mystery and madness have come home to stay."
- Tom Stockman, We Are Movie Geeks
"The film really hits the mark as a dynamic new accomplishment for Eric Stanze and team. Weirdly powerful and full of visual pizzazz, IN MEMORY OF is one to see for thrill-seekers looking for something different!"
- Adrian Halen, HorrorNews.net
"Absolutely fascinating. A highly atmospheric, labyrinthine piece of genre cinema that twists and turns throughout… Tells a very clever story in a unique way."
- Mike Haberfelner, (re)Search My Trash
"A mindfuck from hell... Stanze has truly created a nightmare on film and I loved every second of it."
- Mac Brewer, Horror Society
"An extraordinary film… a surreal road trip through the darkest recesses of the mind. The well-executed narrative is overflowing with subtext that makes this film's finale all the more potent.  Recommended."
- Michael Den Boer, 10K Bullets
"Captivating... Stanze's most mature and ambitious feature to date..."
- Ian Jane, Rock! Shock! Pop!
"Intense and riveting... a creative, wild, and unpredictable ride."
- Marc Fusion, marcfusion.com
Theatre Optique Award Of Innovation – Best Director: Eric Stanze
2018 West Coast International Film Festival, Malibu, California
Silver Jury Award – Best Screenplay
Jason Christ, Jackie Kelly, Eric Stanze
2018 West Coast International Film Festival, Malibu, California
Award of Merit for outstanding Feature Film
2018 IndieFEST Film Awards, La Jolla, California
Award of Merit for Leading Actress Jackie Kelly
2018 IndieFEST Film Awards, La Jolla, California
Award of Recognition for Supporting Actor Jason Christ
2018 IndieFEST Film Awards, La Jolla, California
Award of Merit for Leading Actress Jackie Kelly
2018 Accolade Global Film Competition, La Jolla, California
Award of Recognition for Supporting Actor Jason Christ
2018 Accolade Global Film Competition, La Jolla, California
Award of Recognition for Supporting Actor Adam Ahlbrandt
2018 Accolade Global Film Competition, La Jolla, California
Award of Recognition for Supporting Actress Emily Haack
2018 Accolade Global Film Competition, La Jolla, California
Award of Recognition for Supporting Actor DJ Vivona
2018 Accolade Global Film Competition, La Jolla, California
Gold Award For Directing: Eric Stanze
2018 International Independent Film Awards, Encino, California
Gold Award For Screenplay: Jason Christ, Jackie Kelly, Eric Stanze
2018 International Independent Film Awards, Encino, California
Gold Award For Original Music Score: Rocky Gray, Gus Stevenson
2018 International Independent Film Awards, Encino, California
Silver Award For Production Design: Trevor Williams
2018 International Independent Film Awards, Encino, California
Silver Award For Special Effects Makeup: Bob Nealon
2018 International Independent Film Awards, Encino, California