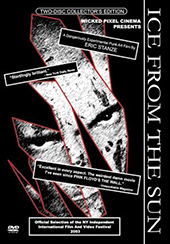 Depravity, Hostility, Insanity, and other acts of God.
In the Dark Ages, an evil wizard named Ambolin created another world, a dimension encased in ice. Within this world, Ambolin and his apprentice played gods, slaughtering innocent humans pulled in from Earth. The apprentice, known as The Presence, grew more powerful with each human he killed. The Presence took over the dimension within the ice and continued butchering hundreds of humans. The Presence became such a powerful, dangerous force that he was soon a common enemy to both the angels in heaven and the devils in hell. Now, the angels and the devils wish to join forces. They plan to exterminate The Presence, but only a being of flesh and blood can pass through the ice that encases his dimension. The angels and the devils select a human from earth. Her name is Alison – and she will be sent through the ice to assassinate The Presence.
DJ Vivona
Ramona Midgett
Angela Zimmerly
Todd Tevlin
Jason Christ
Tommy Biondo
Jo Palermo
Tracey Hein
Jessica Wyman
Charles Heuvelman
Alexander Crestwood
Tony Bridges
Two Discs. NTSC All Region. Dual Layer DVD-9. Dolby Digital Stereo.
Aspect: 1.33:1
Rating: Unrated
Two feature audio commentary tracks.
Feature length behind-the-scenes documentary, ON THIN ICE: The Making Of ICE FROM THE SUN.
Documentary audio commentary track.
Music score featurette.
Auditions footage.
Film facts.
Stills gallery.
Music videos.
Preview trailers.
Written and directed by Eric Stanze.
Produced by Jeremy Wallace and Eric Stanze.
"An audacious indie film that will exhilarate some and infuriate others."
Variety Magazine Video Business
"A stunning work of near-auteur level genius. Visually, you have rarely seen anything like this extraordinary, dreamlike film. Highly recommended."
"A fascinating premise grounds this sensory feast as up-and-coming director Eric Stanze pummels his audience with disturbing images..."
"Eric Stanze is the future of indie horror."
"A phantasmagoria of colors and sounds, colliding together in torrid textures like visions of an acid induced euphoria... truly a mastering of greatness..."
GC Entertainment Magazine
"A truly original horror movie... a riveting experience..."
"This is the best kind of horror... thoroughly stunning... highly recommended."
"...a dazzling feast of bizarre images and sounds... at once strangely beautiful and undeniably hideous. Truly one of the most visually stunning films made at such a low budget..."
"An artistic journey through chaos! This is a movie that packs a punch... and has made low-budget history."
Best Horror / Experimental Feature Film
New York International Independent Film And Video Festival, 2003
Syracuse International Horror, Sci-Fi & Fantasy Film Festival, 2000, Syracuse, New York
Listed Among 'The Ten Greatest Cinematic Headtrips Of All Time'