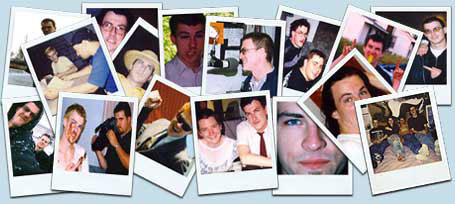 Remembering Tommy Biondo ….by Eric Stanze
Mr. Tommy Biondo, a man who had an incredibly impressive amount of independent film and video work under his belt at the young age of 26, passed away on Friday, August 6th, 1999. He died from injuries inflicted by an accident while on a shoot in Minnesota. Below is a nearly-complete filmography of Tommy's projects. Tommy worked on film/video productions as often as he could, helping out anyone who asked for his assistance. Due to this fact, there are many more projects that benefited from Tommy's talents that are not represented on this list. However, this string of titles is an amazing indication of Tommy's drive and energy in the world of independent filmmaking. We should all be inspired by his enthusiasm for the art as well as his generosity towards any other filmmakers who asked him to help out. Tommy submerged himself in his craft, learned as much as he could, worked as often as he could, and became the definition of the word "artist".
Tom started working with me when he was at the young age of 15. Over the many years we worked together, Tom impressed me more and more with each new project. Tom played a huge part in all the progress we'd made up to the time of his death. Of course, he played a huge part in our personal lives as well. He will be missed, admired, and dearly loved by all of us who had our lives enriched by Tommy Biondo.
-Eric Stanze,
Wicked Pixel Cinema
TOMMY BIONDO FILMOGRAPHY
1993 – SAVAGE HARVEST (Feature) – Actor
1993 – HELL OR HIGH WATER: THE MAKING OF SAVAGE HARVEST (Feature Documentary) – Producer
1993 – HOTEL FAUX PAS: STANDING (Music Video) – Camera Operator
1993 – HOTEL FAUX PAS: I LOST MY INNOCENCE TO THE INDUSTRIAL AGE (Music Video) – Camera Operator
1994 – DED BUGS: SLUGS ARE IN MY HOUSE (Music Video) – Producer
1995 – SATISFACTION (Short) – Writer, Producer, Director, Actor
1996 – ICE FROM THE SUN (Feature) – Production Designer, Actor
1996 – ON THIN ICE: THE MAKING OF ICE FROM THE SUN (Feature Documentary) – Associate Producer
1997 – SURVIVE (Short) – Writer, Producer, Director
1997 – CHOKEHOLD (Short) – Writer, Assistant Director, Actor
1998 – SCRAPBOOK (Feature) – Writer, Executive Producer, Actor
1998 – THE BIG BRASS RING (Feature) – Art Department Crew
1998 – CURVEBALL: PILE OF JUNK (Music Video) – Production Designer
1999 – THE HUSBAND, THE WIFE, THE KILLER, AND THE MOURNER (Short: Not Completed) – Writer, Producer, Director