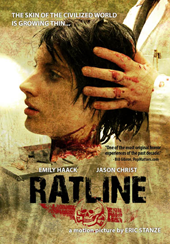 | | |
| --- | --- |
|   | |
| DVD $19.95 | |
RATLINE
The skin of the civilized world is growing thin…
Directed by Eric Stanze.
Written by Eric Stanze and Jason Christ.
Produced by Jeremy Wallace, Eric Stanze, Jessie Seitz, and Jason Christ.
Starring Emily Haack, Jason Christ, Alex Del Monacco, Sarah Swofford, Amanda Pemberton, Ryan Bax, Joseph R. Engel, and DJ Vivona.
Released in 2011.
"One of the most original horror experiences of the past decade."
– PopMatters.com
.
"The story sneaks up on you and wallops you out of nowhere.  A powerful and unforgettable tale… shocking and engaging… unique and ambitious."
– DreadCentral.com
.
"Horror weirdness that defies expectations and is remarkably accomplished. RATLINE is demented madness and highly recommended."
– WeAreMovieGeeks.com
.
"A reminder that this is still the same guy who made SCRAPBOOK— the picture may be prettier, but he still knows how to hit you in the gut.  RATLINE is another example of independent American horror film at its best."
– FilmMonthly.com
.
"One seriously crazy, fearless ride."
– Mondo-Digital.com
.
"An intelligent, fact-filled, historically accurate story full of all the violence and gore we're looking for in a horror film.  Leave it to Stanze; only he could pull off such a plot and make it all work."
– AnythingHorror.com
.
"Carefully weaves historical fact with horror fiction and tops it with a dose of hard boiled crime drama. Exceptionally well staged and executed."
– KillingBoxx.com
.
"…one of Eric Stanze's best films. The storytelling is great, the filmmaking technique is top of the line… Do yourself a favor and check this out."
– Unrated Magazine, United Kingdom
.
"Do NOT miss RATLINE… It's the kind of movie that makes me love independent movies all over again, as it comes out of nowhere; punches hard and leaves an imprint… Skillful storytelling applied on genre, in the very best way."
– Cinezilla
.
"Emily Haack turns in another great performance… RATLINE is certainly one of this year's best indie horror releases."
– HorrorYearBook.com
.
"Strong direction, sharp performances from the whole cast… shot beautifully… the story is compelling, and there's plenty of action. A movie that needs to be on your radar."
– Daily Grindhouse
.
"You have to see this film.  Great acting, and a very cool, interesting storyline.  It's something that I've never seen before."
– Gruesome Hertzogg Horror Review Podcast
.
Listed In Top 100 Essential Alternative
Horror Films Of The Last 100 Years
Rue Morgue Magazine
.
Winner
Best Feature in the 'Crime Film' category
and Best Use Of Music
2011 PollyGrind Film Festival, Las Vegas, Nevada
.
Official Selection
2011 Freak Show Film Festival, Orlando, Florida
.
Winner
Best Director: Eric Stanze
2013 Scare-A-Con Film Festival, Syracuse, New York
.
Ranked #1 In
The Top Ten 'Outsider Films' Of 2011
PopMatters.com
.
Listed In
The Top Genre Films Of 2011
House Of Ninja Dixon (Sweden)
Wildside Cinema (Sweden)
Cinezilla
WickedChannel.com
Cinema Head Cheese
PopMatters.com
.
DVD Details:
NTSC All Region. Dual Layer DVD-9. Dolby Digital Stereo.
Aspect: 1.85:1 / Anamorphic Widescreen
Rating: Unrated
Runtime: 103 Minutes
Bonus Features:
Commentary track by director Eric Stanze.
Commentary track by actress Emily Haack, actor Jason Christ, and director Eric Stanze.
Hour-long documentary: CROSSING THE LINE: The Making Of RATLINE.
Gag reel.
Deleted scenes.
Preview trailers.
Synopsis:
Before the fall of Nazi Germany, the most sacred relic of the Nazi party, the Blood Flag, went missing.  This cherished object possessed supernatural powers, infused by the occult experimentation of the SS Paranormal Division.  The flag's current condition and whereabouts are unknown.  Today, the search for the missing Blood Flag is on, and one man – with diabolical intentions – is getting closer to its hiding place.  The flag is about to be unearthed – with nightmarish, blood-soaked consequences.