FREE SHIPPING FOR ALL U.S. ORDERS!
Please select the appropriate shipping destination in your shopping cart, then click "

Update

".




If you are ordering from outside the United States, a flat-rate shipping fee will be applied.
Payment is in USD ONLY
DVD, Blu-ray, and Streaming
EVERY DVD / BLU-RAY COMES AUTOGRAPHED BY THE DIRECTOR!
DVDs are dual layer DVD-9, NTSC All Region. Blu-rays are 1080p HD, 50GB Dual Layer, NTSC All Region ABC.
CLICK THE BOX ART FOR PREVIEW TRAILER AND DETAILS ABOUT EACH FILM!
Jackie Kelly Killer Combo
TENNESSEE GOTHIC and IN MEMORY OF
For a limited time, grab this autographed Blu-ray two-pack of TENNESSEE GOTHIC and IN MEMORY OF! This bundle also comes with one Wicked Pixel Cinema enamel pin, one TENNESSEE GOTHIC enamel pin, and one TENNESSEE GOTHIC button! Both the TENNESSEE GOTHIC Blu-ray and the Two-Disc IN MEMORY OF Blu-ray come signed by the star of both films, Jackie Kelly. Both Blu-rays are signed by Eric Stanze, director of IN MEMORY OF and director of photography for TENNESSEE GOTHIC. The TENNESSEE GOTHIC Blu-ray also comes signed by director Jeff Wedding. Quantities of this combo pack are EXTREMELY LIMITED – and once they sell out, they will not be re-stocked!
Sometimes it's better to forget.
When a medical experiment turns into a blood-soaked nightmare, the only surviving subject flees for her life. Painfully missing her most precious memories of childhood, pummeled by horrific hallucinations, and pursued by those who stand to profit from her damaged brain, Amber Sheridan embarks on a cross-country road trip to track down a mysterious stranger – a man who has the ability to end Amber's madness, and restore the memories that have been stolen from her.
The skin of the civilized world is growing thin...
Before the fall of Nazi Germany, the most sacred relic of the Nazi party, the Blood Flag, went missing.  This cherished object possessed supernatural powers, infused by the occult experimentation of the SS Paranormal Division.  The flag's current condition and whereabouts are unknown.  Today, the search for the missing Blood Flag is on, and one man – with diabolical intentions – is getting closer to its hiding place.  The flag is about to be unearthed – with nightmarish, blood-soaked consequences.
When I looked for good, then evil came unto me; And when I waited for light, there came darkness. – Job 30:26
The small community of Eidolon Crossing once boasted a flourishing economy and great prosperity, fueled by an amusement park at the edge of town. Then the child murders began. One by one, murdered children were unearthed on the amusement park property. Finally, the macabre publicity shut the park down entirely and it was abandoned. Jake Richardson is drawn back to Eidolon Crossing, the town where his brother was taken from him 25 years ago. The spirits of the many murdered children begin to contact Jake. He is led back to the abandoned amusement park. Here, in this decaying park, Jake will unlock the horrible secrets of this sinister, blood-soaked town.
SAVAGE HARVEST 2: OCTOBER BLOOD
Deep within the darkness of your past, a new terror is taking shape.
BONUS: Order the SAVAGE HARVEST 2: OCTOBER BLOOD 2-Disc DVD and you'll also receive a SAVAGE HARVEST 2: OCTOBER BLOOD Soundtrack CD – absolutely free!  Synopsis: Tyge Murdock, a successful director of low-budget horror films, has been chasing monsters his whole life. When an actor is accidentally killed on the set of his latest production, Tyge returns to his hometown to reassess his life. But all new nightmares await him there… His path soon crosses that of Ashley Lomack, his high school sweetheart who vanished from his life after a gruesome mass murder ten years earlier. The sole survivor of this massacre was Ashley's older sister Mikki. Consumed by the rumors of demonic possession surrounding the murders, Tyge soon finds himself trapped in a deadly chain of events. The demonic forces erupt once more for another night of terror and carnage. Tyge, Ashley and their friends must now unravel a bizarre mystery as the night of gore-splattered violence engulfs them!
True horror is simply what one human being can do to another.
A young woman named Clara is captured by a serial killer named Leonard who records his "life story" by keeping a scrapbook of his many victims. In addition to adhering Polaroids, scraps of clothing, and other small trophies to the pages, Leonard has forced his victims to personally write in the scrapbook about their individual ordeals. Clara is beaten, raped, starved, and locked up like an animal, filthy and naked. She is forced to write in the scrapbook, adding her agony to the pages. She soon realizes that her only hope for survival is to manipulate Leonard through her writings in his cherished scrapbook.
Depravity, Hostility, Insanity, and other acts of God.
OUT OF PRINT DVD BACK IN STOCK FOR A LIMITED TIME! Every DVD ships with a B&W 11×17 poster from the 1999 release of the film! (These are the actual 1999 release posters – not reprints.) Both the DVD and the poster are signed by director Eric Stanze! Synopsis: In the Dark Ages, an evil wizard named Ambolin created a dimension encased in ice. Within this world, Ambolin and his apprentice played gods, slaughtering innocent humans pulled in from Earth. The apprentice, known as The Presence, grew more powerful with each human he killed. The Presence took over the dimension within the ice and continued butchering hundreds of humans. The Presence became such a powerful, dangerous force that he was soon a common enemy to both the angels in heaven and the devils in hell. Now, the angels and the devils wish to join forces. They plan to exterminate The Presence, but only a being of flesh and blood can pass through the ice that encases his dimension. The angels and the devils select a human from earth. Her name is Alison – and she will be sent through the ice to assassinate The Presence.
Only bloodshed, violence, and terror now grow in these darkened fields…  And tonight, the harvest begins.
Years ago, a Cherokee elder summoned into our world an evil that eventually destroyed his entire tribe. Now, on the land that was once inhabited by the tribe, demonic forces await the return of this long-dead Cherokee elder. When these demons sense the arrival of the elder's descendent, they gain the ability to possess human beings. A small group of innocent people trapped on the land must unlock the riddles left behind by the Cherokee elder. Demonic possession consumes one victim after another as showers of blood drench the earth and shrieks of pain echo throughout the forest. The possessed are animalistic, frenzied killing machines, feeding on the warm meat of fresh kills!
Chaotic and bizarre short films of the sinful, sensual, and sinister!
Short Films:
VOMIRE, directed by Chad Eivins.
FAITH IN NOTHING, directed by Eric Stanze.
SATISFACTION, directed by Tommy Biondo.
UNWANTED, directed by Todd Tevlin.
VICTIM, directed by Jason Christ (newly remastered for this DVD).
SEDGEWICK, directed by Stephen M. Lashly and Quinn M. Botthof.
LIONTOWN, directed by Aaron Crozier.
CURVEBALL: PILE OF JUNK, directed by Jason Christ (newly remastered for this DVD).
Limited Edition Signed IN MEMORY OF Poster
Each Poster Is Numbered & Signed By The Cast & Crew!
Only 100 posters printed!
11×17 high quality poster for IN MEMORY OF, directed by Eric Stanze. This Limited Edition Advance Poster for IN MEMORY OF comes uniquely numbered and signed by the cast and crew: Director / Writer ERIC STANZE. Actor / Writer JACKIE KELLY. Actor / Writer JASON CHRIST. Actor ADAM AHLBRANDT. Actor EMILY HAACK. Actor DJ VIVONA. Actor JIM OUSLEY. Actor GUS STEVENSON. Actor HALEY JAY MADISON. Actor JASON ALLEN WOLFE. Actor KATIE GROSHONG. Actor NADINA SAMMONS. Producer JEREMY WALLACE. Special Effects Artist BOB NEALON. Production Designer TREVOR WILLIAMS. Assistant Director JEFF WEDDING.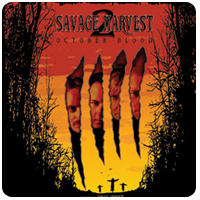 Savage Harvest 2 Soundtrack
Digital Download / Streaming




1. It Begins - Shawn Donoho
2. An Invitation - Shawn Donoho
5. Zack's Collection - Shawn Donoho
6. Alone In The City Of Robots - Adair
7. Finding Ashley - Shawn Donoho
8. Help Me - Shawn Donoho
10. Behind The Mirror - Shawn Donoho
11. Soul Thief - Shawn Donoho
12. The Farmhouse - Shawn Donoho
13. The Worst Kind Of Waiting - Tree of Woe
14. Quicksand - ROCKGODSUPERSTAR
15. Escape - Shawn Donoho
16. A House Divided - Shawn Donoho
17. Girl Named Vegas - Calico System
18. Awakening - Shawn Donoho
19. I Sold My Soul To A Frankenhooker
20. The Man Demon - Shawn Donoho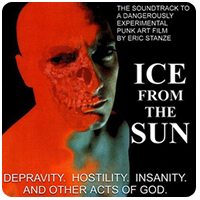 Ice From the Sun Soundtrack
Digital Download / Streaming




1. Ice From The Sun - Godfuck
2. Lightning Rod - Hotel Faux Pas
4. Go To War Now - Ded Bugs
5. My Baby Won't Go Down On Me - Johnny Magnet
6. Trippin' In The Caddy - Trip Daddys
7. Burning Paradise - Sons Of Black Mass
8. Piggy Back Ride - Johnathan Woodside
9. Commercial God - Organic State
10. Jailhouse Tattoo - Highway Matrons
12. Butter - Johnny Magnet
14. 70 West - Trip Daddys
15. Paper Cut - Johnny Magnet