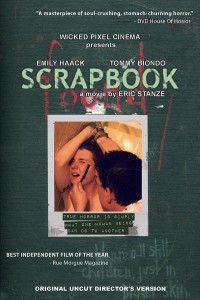 True horror is simply what one human being can do to another.
A young woman named Clara is captured by a serial killer named Leonard who records his "life story" by keeping a scrapbook of his many victims. In addition to adhering Polaroids, scraps of clothing, and other small trophies to the pages, Leonard has forced his victims to personally write in the scrapbook about their individual ordeals. Clara is beaten, raped, starved, and locked up like an animal, filthy and naked. She is forced to write in the scrapbook, adding her agony to the pages. She soon realizes that her only hope for survival is to manipulate Leonard through her writings in his cherished scrapbook.
Emily Haack
Tommy Biondo
Todd Tevlin
Elizabeth Hammock
NTSC All Region. Dual Layer DVD-9. Dolby Digital Stereo.
Aspect: 1.33:1
Rating: Unrated
15 Year Anniversary Commentary Track with director Eric Stanze, actress Emily Haack, and producer Jeremy Wallace – recorded August 2014.
The Making Of SCRAPBOOK Documentary.
Featurette: Scrapbook Close Up.
Featurette: Shower Cam.
Stills Montage.
Deleted Scene.
HOWARD – an experimental short film by Tommy Biondo.
Preview Trailers.
Directed by Eric Stanze.
Story by Tommy Biondo.
Produced by Jeremy Wallace, Eric Stanze, and Tommy Biondo.
"The fact that I find such an excruciatingly ugly and unpleasant film so exhilarating is testimony to the incredible skill with which it was made. I'm almost too tongue-tied to adequately describe how good it is."
"One of the finest examples of a true horror film ever made."
"A masterpiece of soul-crushing, stomach-churning horror."
"A terrifying journey... Brilliantly-crafted..."
"The first horror film that I have seen in my adult life that scared me.  Essential viewing for any horror fan."
"...like a 44-slug straight through the brain. ...a spitfire, hellhole of a movie that will haunt you for weeks afterward. Highly recommended."
"...as brilliant as it is brutal."
"Challenging and harrowing filmmaking... A minor masterpiece of depravity."
"Emotion-shattering… unsettling, upsetting, and uncompromising… (a) masterpiece of squirm-inducing underground horror."
"Highly recommended. Stanze breaks the ground that most filmmakers are generally afraid to step on. You'll hear some people say 'horror is dead', but those are people that aren't aware of movies like this."
"One of the most brutal serial killer stories ever..."
GC Entertainment Magazine
"A horror film like nothing you've seen before.  Haack and Biondo are electrifying."
Best Independent Film Of The Year
Syracuse International Horror, Sci-Fi & Fantasy Film Festival, 2001, Syracuse, New York
Fright Night Film Festival, 2007, Louisville, Kentucky
15 Year Anniversary Showcase Screening
Slaughter In Syracuse Indie Film Fest Event, 2015, Syracuse New York