Eric Stanze's IN MEMORY OF Production Journal
PLEASE SCROLL TO THE BOTTOM TO SEE THE MOST RECENT UPDATE
UPDATES WILL CONTINUE THROUGH THE RELEASE OF THE FILM
August 23, 2014
Welcome to my deeply personal, private, and intimate production journal for IN MEMORY OF (The Project Formerly Known As STOPLIGHT).
Here are some updates concerning our re-routing of this journey:
We did not do well with our crowdfunding extravaganza.  We knew, being crowdfunding virgins, that we'd learn more than we would actually accomplish, so we were not counting on the Indiegogo campaign to bring in our budget.  We had four primary contributors, outside of Indiegogo, offering to supply our budget.  Unfortunately, this fell apart on us too.  So, we are pushing the start of the shoot from this fall to spring of 2015.  This will give us time to raise the funds we need to make this film.
Now that we have this extra time, we are also taking the opportunity to re-write.  The original screenplay has been thrown out and we are rebuilding from scratch.  I have been writing with Jason Christ and Jackie Kelly – and wow!  Not only is the experience writing with them absolutely wonderful, we are creating something extremely dark, shocking, original, and fascinating.  This new screenplay is shaping up to be 100 times better.  More nightmarish.  Much more visually driven.  Think VANISHING POINT meets NIGHTMARE ON ELM STREET, seen through the eyes of David Lynch and David Cronenberg.  I've never seen a movie like this, and I am excited!
So we have re-titled the project (which we knew we were going to have to do months ago) and the screenplay is now being re-written. What is NOT changing:  IN MEMORY OF is still a hybrid road trip film / horror movie.  Jason Christ and Adam Ahlbrandt will still be playing major roles in the film.  (More awesome casting news will be announced soon!) And Rocky Gray, the former drummer for the Grammy-winning, multi-platinum band Evanescence, will still be creating the music score.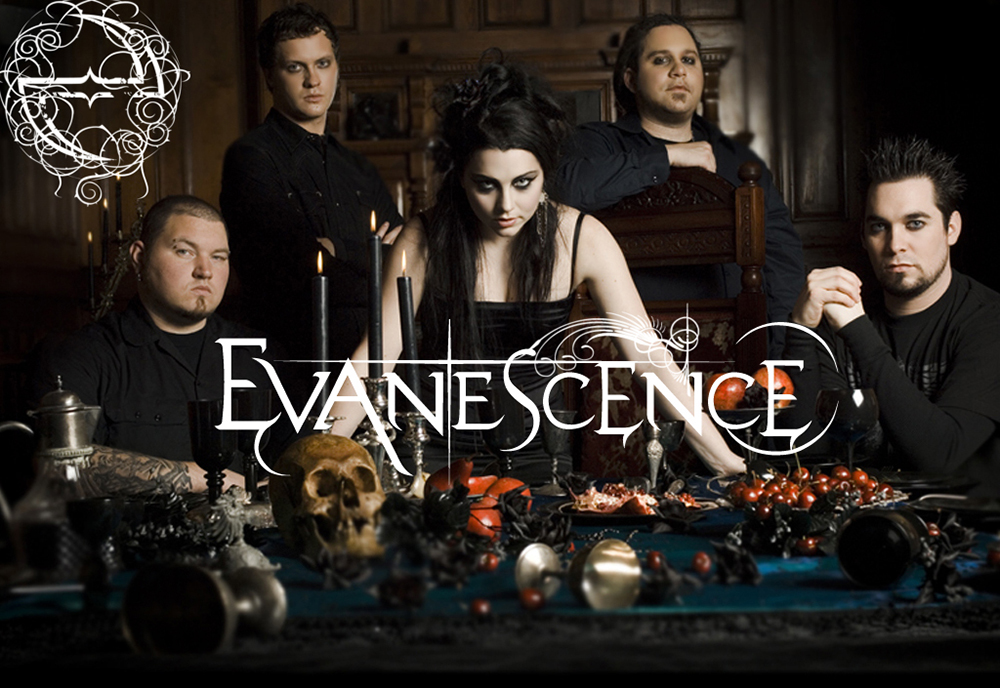 Thank you VERY MUCH for supporting this project, and for taking this ride into madness with me!
September 2, 2014
We welcome producer Jason Limberg to the production team!
Also, I am already receiving music score demo tracks from the mega-talented Rocky Gray, and I am blown away by what he is doing.  We've also just been informed that a great band called Tone Rodent is agreeing to supply some of their songs to the movie.  As you can tell, I have a very unorthodox way of handling the music for my films.  I prefer to have songs from bands, and the music score in my mitts before I start editing the movie.  Music score will transform and be remixed a bit as I'm editing, but for the most part, I have everything – my footage, songs, and music score – ready at my fingertips when I sit down to begin editing a film.  Weird way of working, but I prefer to do it this way, instead of locking picture, then having the music score written and performed to it.
This is not official, so we are not making public announcements yet, but it looks like Emily Haack (SCRAPBOOK, RATLINE) and DJ Vivona (ICE FROM THE SUN, RATLINE) will be playing major roles in the movie!
The new screenplay by me, Jason Christ, and Jackie Kelly is progressing wonderfully – even though we've all been working our butts off the last couple o' weeks on the upcoming SCRAPBOOK DVD re-release.  Some cool new goodies will be on the disc… it's a jam packed DVD!
September 7, 2014
The script is coming along wonderfully.  Location scouting has slowed down as we write, but it should kick back into high gear later this month.  Funding for the budget is trickling in slowly, keeping me from being in a full panic about it, but not fast enough that I think we are entirely out of the woods yet.  I had a meeting with Jim Ousley yesterday about a fundraising event that he is working on with Jeremy Wallace.  The event will take place early next year.  It will likely bring in a decent chunk of the budget – but it also sounds like it will be a whole lot of fun too!
September 13, 2014
While the creative and production elements of IN MEMORY OF maintain their momentum, we're still fighting an uphill battle to secure the funding we need for the movie.  Progress is being made, but for every mile we traverse, we hit ten dead ends.  You can help by asking all your friends, family, clergy, and local elected officials to support IN MEMORY OF by pre-ordering the Blu-ray or picking up a prop here.  We're selling props from past films to send some money into the IN MEMORY OF budget – and we have big-ticket items for the high-rollers, down to items priced for anyone interested in pitching in a small amount.  Your spreading the word would be most appreciated.
And I'm really enjoying the fact that the Halloween season is now upon us.
September 20, 2014
Momentum for IN MEMORY OF funding is slowly picking up.  We are in contact with new people who are expressing interest in joining in on the financing end.  Not out of the woods yet, and my stress has most certainly not been alleviated, but at least things are progressing in the right direction.
Jason, Jackie, and I are days away from completing a first draft of the screenplay.  Very exciting!  I love how this has turned out.  Jackie and Jason are doing outstanding work!
September 29, 2014
Our new options for bringing in the full budget look more promising every day.  However, the soonest I will be able to have serious discussions with the producers willing to write us the check will be after Halloween.  So, I've got  a month of baby-stepping that process along, and sweating it out until things really start to move forward for the funding.  October will be spent fine-tuning the script, working on casting, and of course, enjoying the Halloween season!
October 5, 2014
Fine tuning the script in between bursts of freelance editing work – a necessity for keeping the lights on.
October 12, 2014
Officially announced DJ Vivona as being in the cast.  DJ and I go way back.  He's appeared in many of my past films including SAVAGE HARVEST, ICE FROM THE SUN, CHINA WHITE SERPENTINE, and RATLINE.  In fact, I think DJ has made more appearances in my movies than any other actor.  He's always fun to work with, and he adds a fascinating spark to whatever film he appears in – whether he's playing a bit part or a leading role.  DJ is also a supportive friend.  When he acts in one of my movies, he's always eager to go above and beyond his acting role to support me in getting the film made.  I can't wait to be back on set with this guy!
October 19, 2014
We officially announced Emily Haack as being in the cast of IN MEMORY OF.
SCRAPBOOK, in which Emily made her film debut, is officially re-released this week.  In North America, SCRAPBOOK was first released by Salt City Home Video (now SRS Cinema), and was later released by Image Entertainment.  As of this week, SCRAPBOOK, for the very first time, is in North American release via Wicked Pixel Cinema exclusively.  You can find the DVD on Amazon, DiabolikDVD.com, a handful of other online retailers, and of course, in the Wicked Pixel Cinema webstore.
Emily has received a lot of critical acclaim for her performance in SCRAPBOOK – all of it very much deserved.  I met her during post-production of ICE FROM THE SUN.  Later, Tom Biondo had her in mind to play "Clara" in SCRAPBOOK.  The three of us sat down to talk about SCRAPBOOK, and thankfully, we were all on the same page.  Making that film with her was an extremely positive experience, and I'm lucky to have had many additional positive on-set experiences with her since, as well as the development of a great friendship.  She's a wonderfully unique and talented person.  My filmography is better than it would have been had I never crossed paths with Emily Haack.

October 27, 2014
Earlier  in 2014, I was emailed, outta the blue, by aspiring filmmaker Jackie Kelly.  She informed me that she was in her last of year of college, earning a degree in screenwriting, and that she's been a fan of my films for years.  She asked if she could take part in whatever film I had coming up next – in any way… even if we just needed a PA.  She soon submitted a short film called AMENITY – which Jackie had written, co-directed, and starred in – to prove she had the tenacity to back up her talk.  Though a student film, I was impressed with AMENITY.  (At that time, I'd been seeing a lot of short films and actors' demo clips that were supposedly "professionally produced" – and tiny, no-budget student film AMENITY ran circles around the majority of 'em.)
When Jackie submitted her short film, I was unaware that she starred in it.  Jackie was contacting me seeking a behind-the-scenes position.  She was not submitting to our casting call… so her experience as an actress was not part of our conversation.
Based on our email discussions and her short film, I was impressed with Jackie, and knew she would be a very positive addition to our next movie.  IN MEMORY OF producer Jim Ousley and I met with Jackie in person for the first time, and we both came away eager to include her.  I officially asked Jackie to join the team, and we kept her job description very open… I wasn't sure how exactly she would be functioning on the upcoming film, but I was pretty sure she wasn't going to be restricted to PA work.
As Jackie was in film school, working on a degree in screenwriting, I knew she was serious about this craft.  And our conversations supported my belief that she was in this 100%, and not interested in filmmaking as a hobby.  I officially invited Jackie to join me and Jason Christ in writing the IN MEMORY OF screenplay.  I may have gotten a bit of sunburn from the joy beaming from Jackie's expression when she – very enthusiastically – said yes.
After the first story meeting at which Jackie, Jason, and I set up the structure of the film, nailed down the basic plot points, and rough-sketched the characters, I thought back to Jackie's performance in AMENITY.  I began to consider Jackie for IN MEMORY OF's lead role, "Amber Sheridan".  Jackie's enthusiasm for filmmaking in general and our film specifically was off the charts… and that's vital when casting a low-budget indie flick.  Also, Jackie had (especially for her young age) a considerable amount of acting experience, mostly in live theater.  Furthermore, Jackie seemed to really "fit" the lead role in terms of her physical look, mannerisms, and expressions.  I thought she could exhibit a fragile, youthful, deer-in-headlights layer, as well as a buried but hotly-burning inner strength.  I also loved that she does not look like the contemporary horror film female lead norm… Instead, Jackie has more of a 60's / 70's movie star beauty to her.  Think Mia Farrow in ROSEMARY'S BABY.  Think Elke Sommer in BARON BLOOD.
Most importantly, I could tell from her performance in AMENTIY that Jackie could definitely handle the extremes the character in IN MEMORY OF would go through.  I discussed this casting option with Jason, but did not bring it up to Jackie.  The script could change a lot as we worked our way through the process – it was too early to offer anyone any of the roles… but Jason really liked the idea of casting Jackie as Amber.
A month later, I offered the role to Jackie.  After much discussion about the demands the role would place on her, she accepted the part.  Again, the excitement she exhibited was immense, and a joy to witness.  Jackie's contributions as a writer on the project have been tremendous.  I'm eager to see what she now brings to the film in the lead role.
November 3, 2014
I'm currently working my way through a small mountain of freelance editing work, to make sure I can keep my lights on when I'm toiling full-time on IN MEMORY OF.  Despite such demands on my time, the screenplay is progressing well.
We are location scouting again this upcoming weekend.
November 9, 2014
We scouted some new locations this past weekend.
Here is an abandoned hotel in Irondale, Missouri: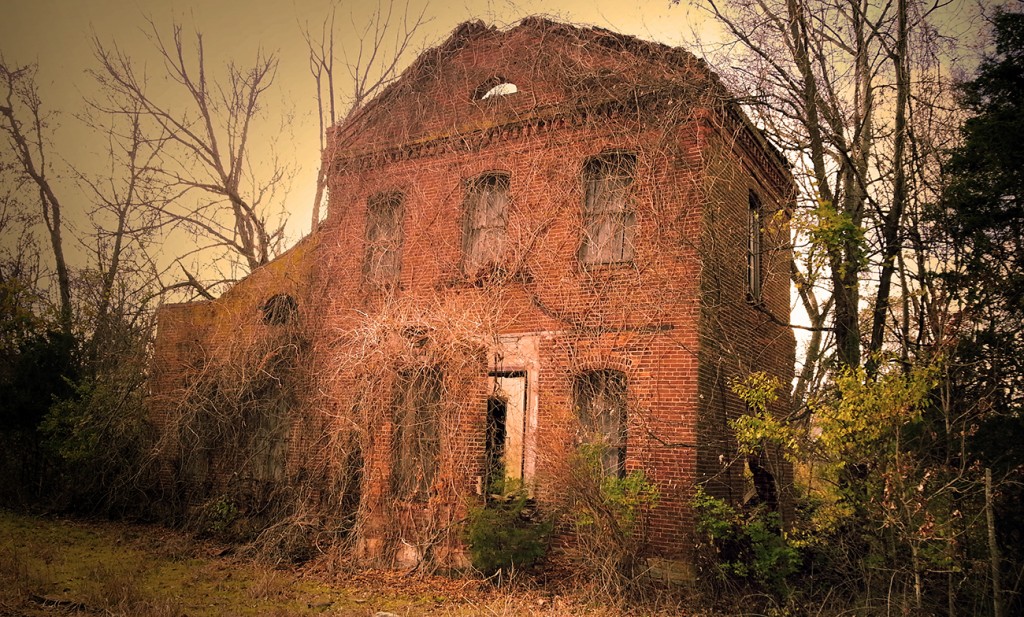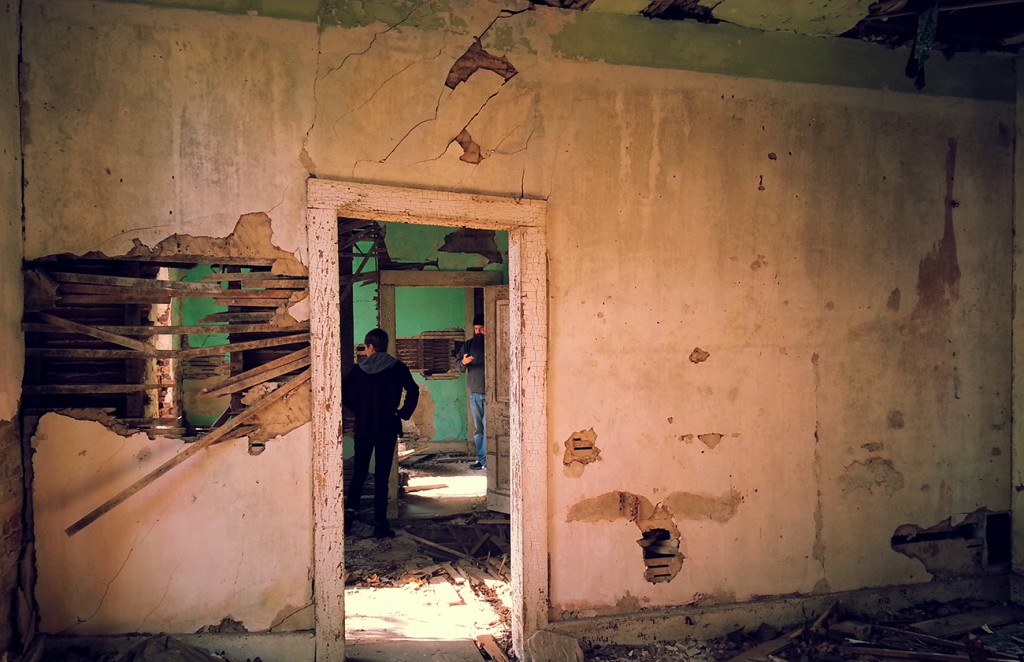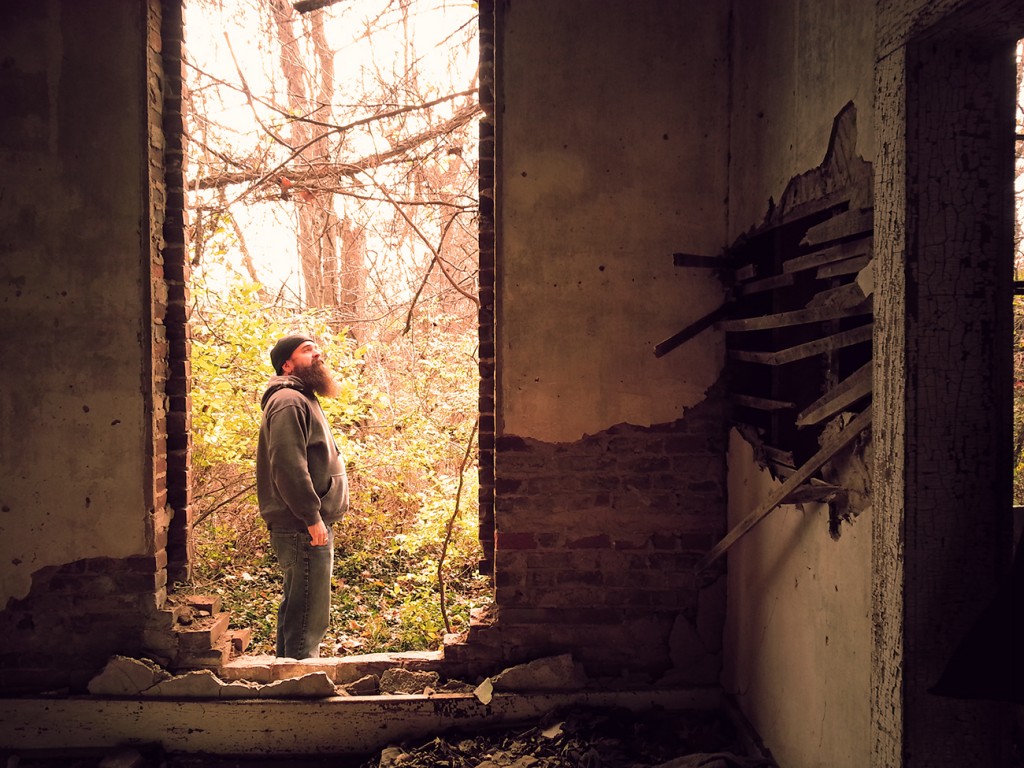 And here is the abandoned St. Mary's hospital in Ironton, Missouri: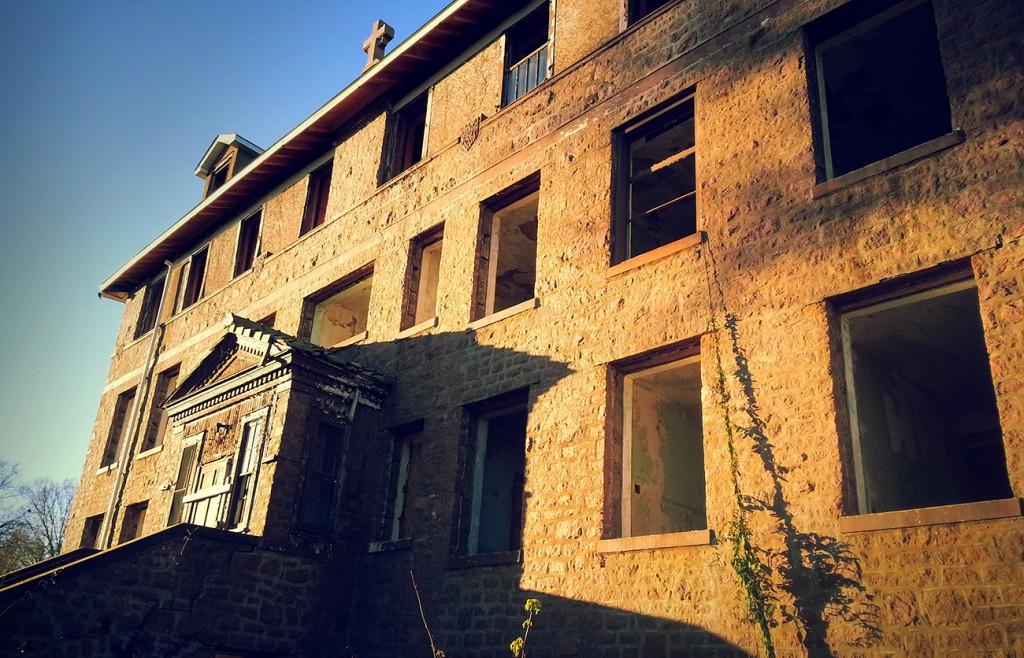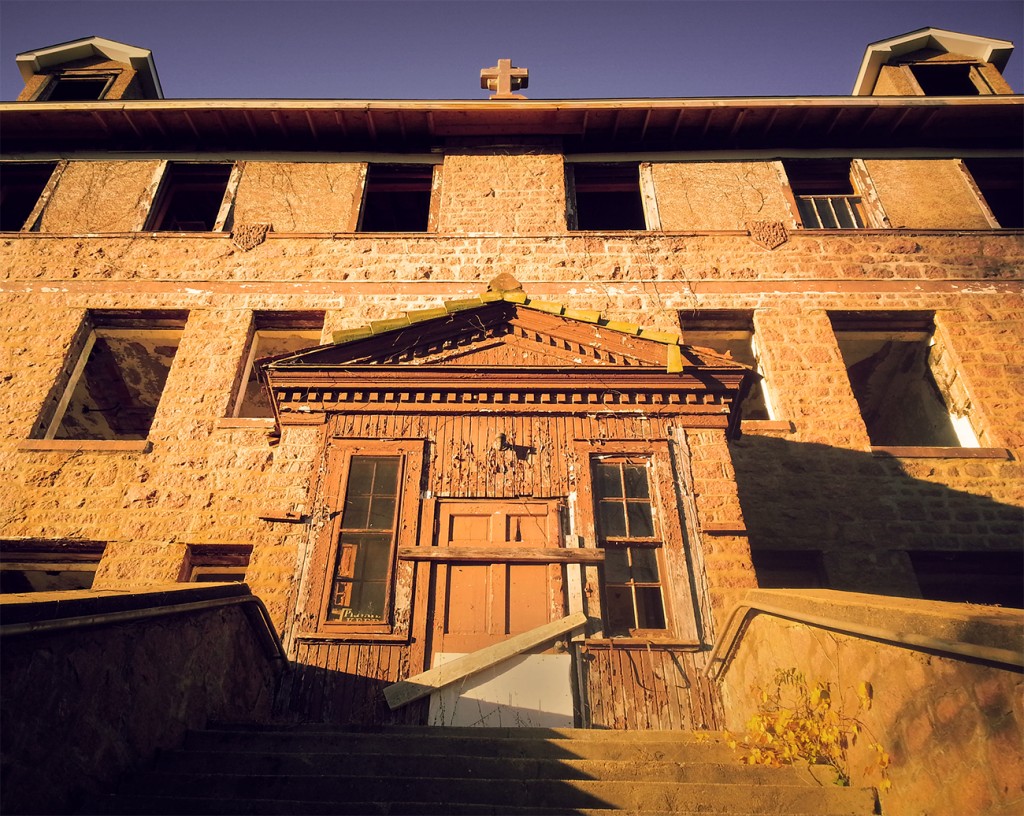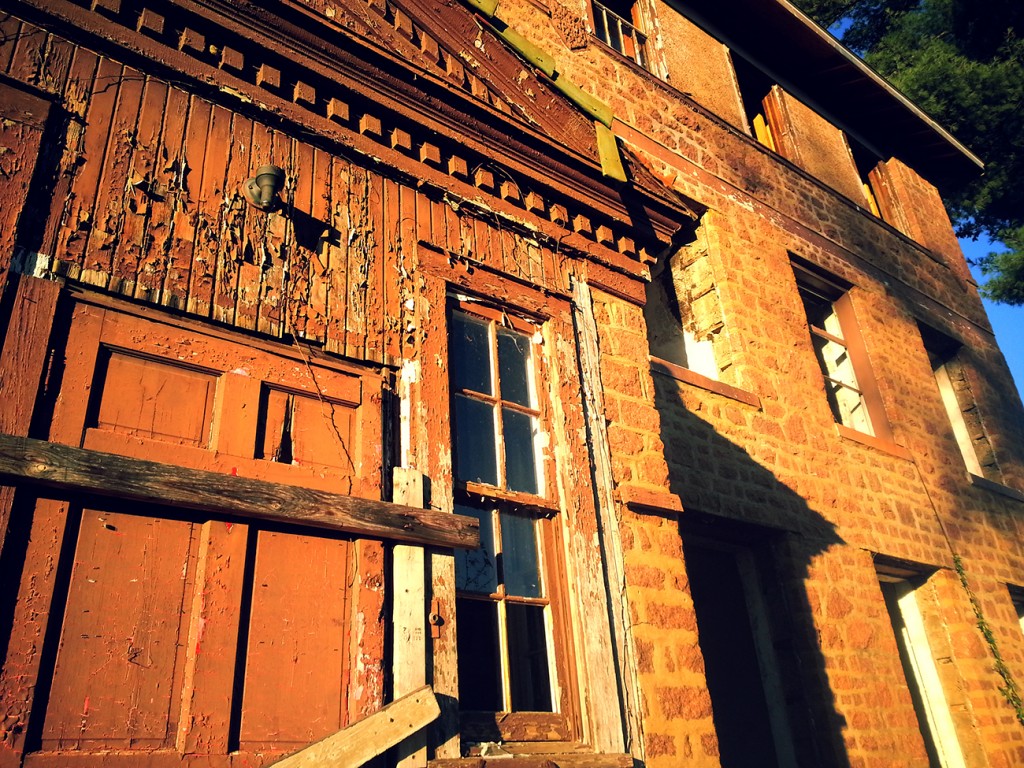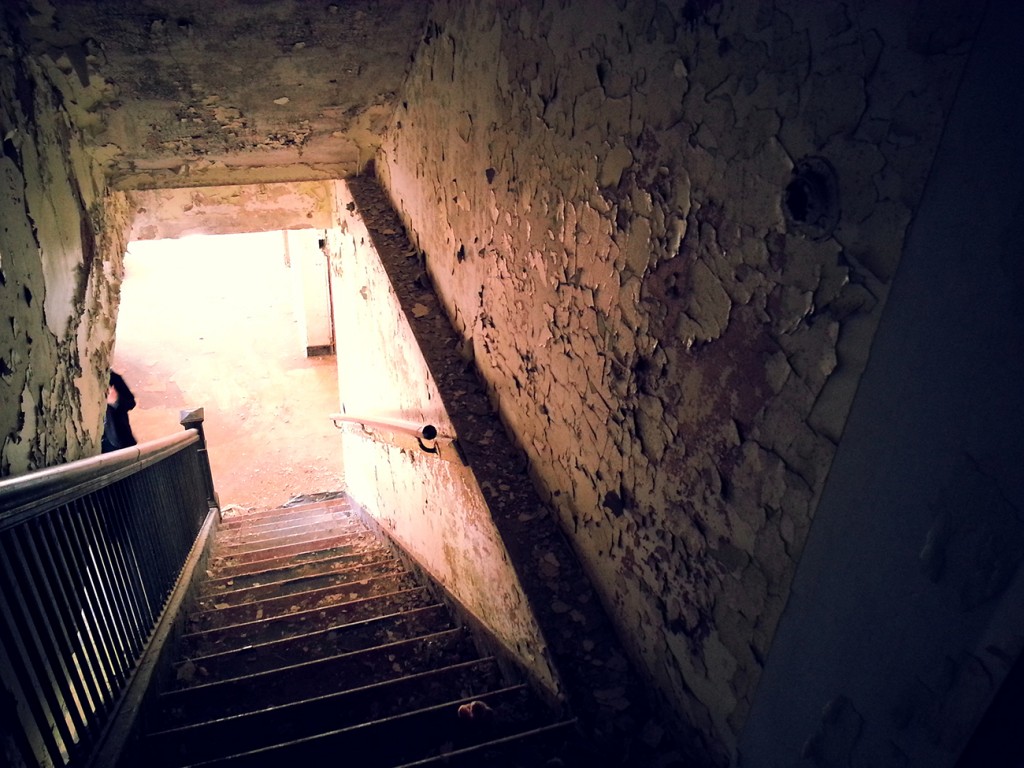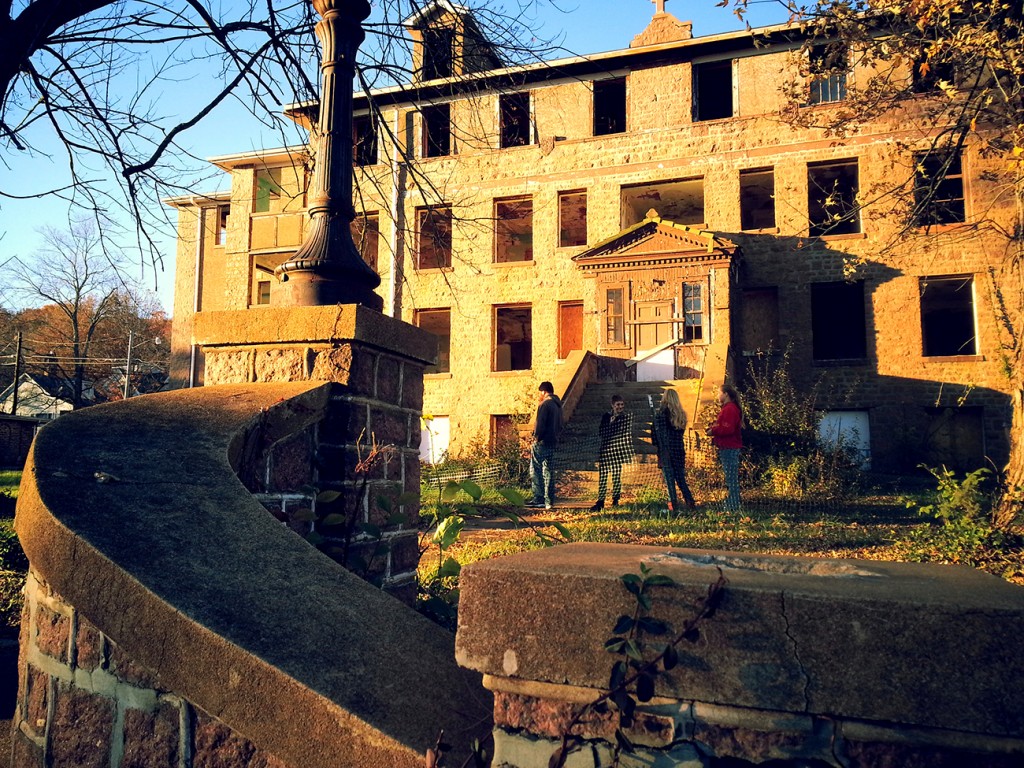 November 16, 2014
Through October and the first half of November, I was immersed in behind-the-scenes documentary post-production work, editing for Paramount Pictures and their upcoming Blu-ray release of THE GAMBLER.  Now that the final piece for Paramount has been turned in, I can return to full-steam-ahead on IN MEMORY OF.  This week will see major advances on the screenplay.  I've got to start working on a preliminary shooting schedule, probably next week.  And there is more location scouting to delve into before Christmas is upon us.  Almost nothing moves forward mid-December through January 5th.  I'm not into Christmas, so I'll admit, I find this irritating.
Speaking of location scouting, it's been going very well, and it has fueled the writing process nicely.  On a very low budget film, it is best to write around what you have, instead of writing it in and then going out to find it.  Nailing down locations, then writing around them has been working wonderfully .
In the photos above, you'll see an abandoned hotel.  Jason, Jackie, and I had already written a scene to take place in this location, based on photos sent to us by one of the film's location managers, Mark Ames.  Last weekend, Jason, Jackie, and I finally got to see the place in person, and that helped us fine tune the game plan for shooting there.
The other photos above are of an abandoned hospital, which is about 25 miles south of the hotel location.  This hospital was offered to us for the shoot only recently, so it was a different experience scouting it.  With the script nearly finished, we need to ponder on what can be added or rewritten to make use of the hospital.  There is currently nothing in the script written for this or a location like it… but I'm sure our three brains will come up with a sinister scenario to place in this location.
November 21, 2014
Jackie, Jason and I are immersed in fine-tuning of the screenplay.  We'll have a locked script by Christmas.  Every day, I become more and more excited about this script.  It's original, horrific, satiric, shocking, artful, and extremely dark.
Producer Jeremy Wallace is spearheading December's location scouting, to spot, explore, and nail down the remaining locations for the film.  He is setting up December's location scouts now.
On the financing side of things, all is chaos.  Multiple plans to bring in the film's remaining funding are constantly lurching to life, sputtering out, then showing signs of life again.  All the while I'm drafting a wide range of budgets and a cascade of different game plans to shoot IN MEMORY OF at any of our possible budget levels – from "reasonably funded low budget film" down to "a tiny crew suffers and starves for six months to bring the film across the finish line".
November 30, 2014
Jason, Jackie, and I had a great, productive script revision meeting last night.  We are all very excited about how the screenplay is shaping up!  Working with these two super-talented people is an absolute joy.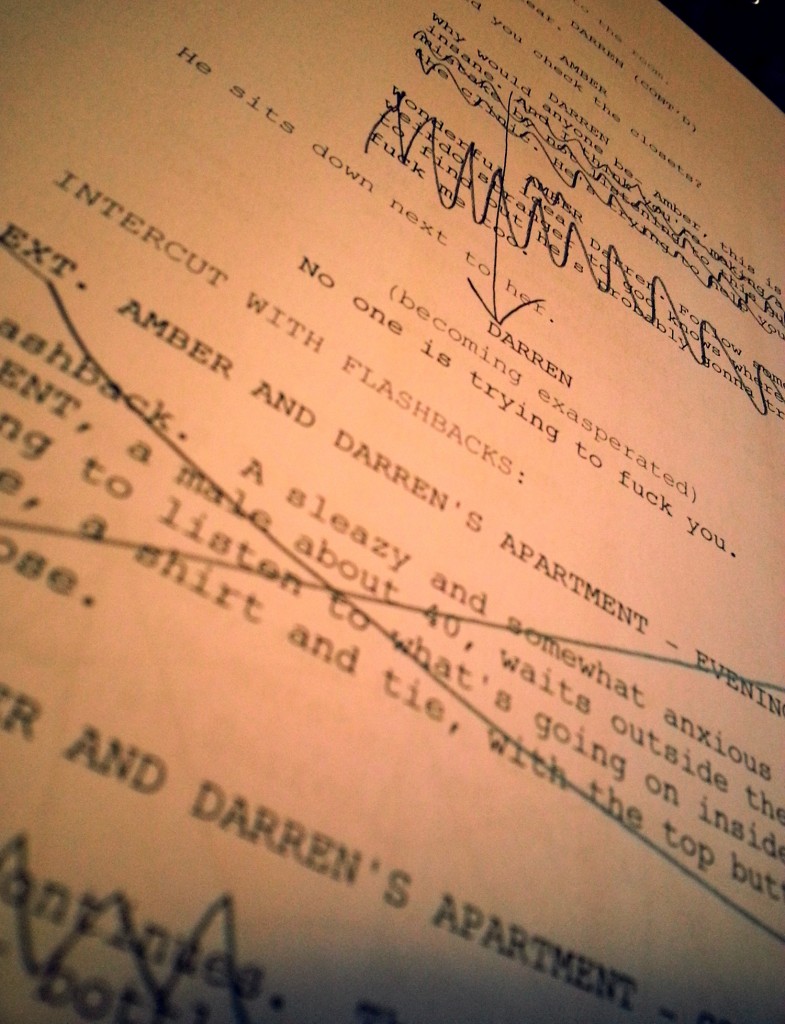 December 2, 2014
Jason, Jackie, and I had yet another awesome writers' meeting last night, going over every line of the screenplay to make it as strong as possible.  We've still got more work to do, but I am beyond happy with how this process is unfolding.  I believe we have an outstanding script, and each time we revise and fine-tune, I get more excited about shooting IN MEMORY OF.  Not only are Jason and Jackie extremely talented, they are wonderful to work with.  No ego, no drama, no bullshit… just a passionate devotion to making the best movie possible.  I am an incredibly lucky filmmaker to have these two at my side.
The IN MEMORY OF writing team: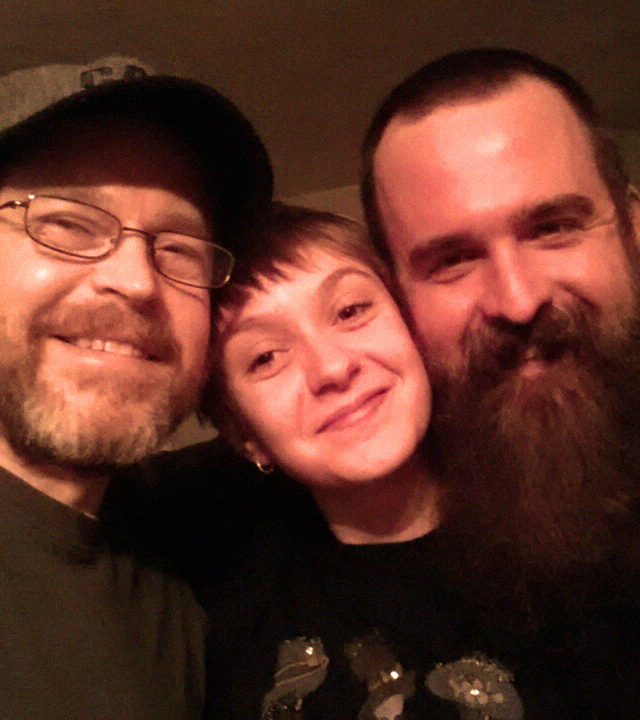 December 15, 2014
Jason, Jackie, and I had our final writers' meeting over the weekend.  I've got a minimum of tweaks to make to the script this week, and then the screenplay for IN MEMORY OF is locked.  Also this past weekend, Jeremy Wallace and I went location scouting in Hermann, Missouri, where most of RATLINE was shot.  We scouted both in the heart of the town and way, way, way off the beaten path.  The highlights of the locations we checked out were an old three-story home that is sitting abandoned, a great looking 50's era diner, and a vacation lodge / home kinda structure located on the property of a winery.
Here's a creepy pic from the attic of the three story home we scouted.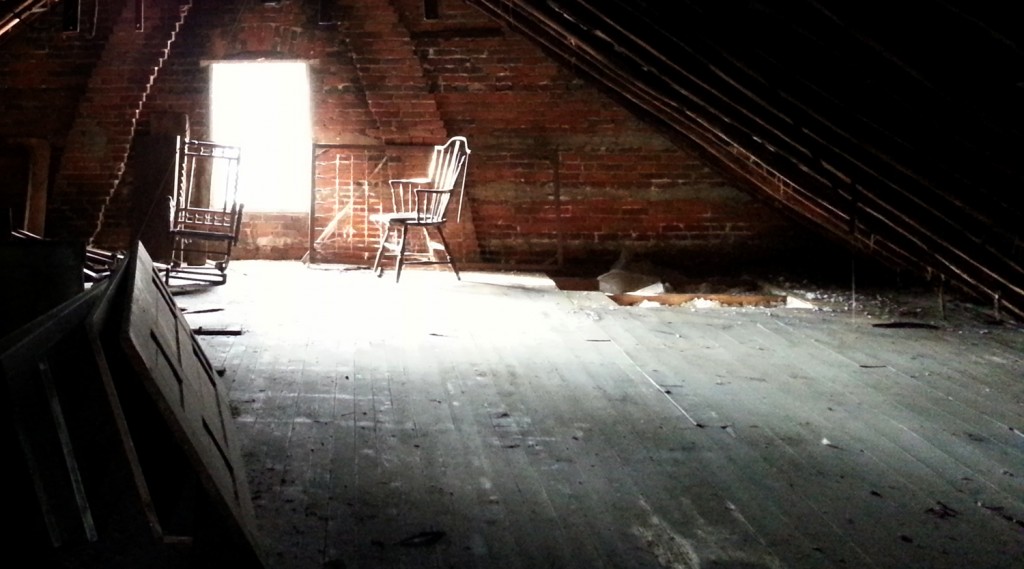 December 19, 2014
With the holidays upon us, it feels (as it does every year) like the world is grinding to a crawl… as my own workload continues to increase.  At this point in pre-production, with the shoot less than 90 days away from starting, the mountain of tasks to complete is challenging to the point of being nearly overwhelming.   No time for Ho, ho, ho – I've got a film to make.  While everyone else is off watching Christmas movies on TV with the aunts and uncles, and opening presents with the little nieces and nephews, and having cake and ice cream with the Grandma, I'm working on the budget, pondering characters' wardrobe options, planning out the special effects, designing shots, wrestling with the shooting schedule, spending hours and hours researching camera gear and lenses, and trying to cast the remaining roles in the film.  It's pretty difficult to do casting around the holidays because actors who were banging down my door to be in this film two months ago are now traveling, or focused on other holiday extravaganzas, and too distracted by such festive xmas activities to think about being in a small indie film.  Location scouting?  Full steam ahead from the beginning of November until about now.  This time o' year, nobody is interested in doing nuthin' but last minute gift shoping, company Christmas parties, drinking egg nog, and planning family holiday feasts.  Financing?  Forget moving that ball forward until after January 3rd.  Do I sound "bah-humbug"?  Am I lacking in Christmas spirit?  Yes!  Of course!  But it ain't so bad… I'd MUCH rather be dealing with all the challenges of making a film than not making a film at all.  I'm very stressed – but, despite all the moaning and complaining above, I'm very happy right now too.  And… actually… if the IN MEMORY OF core team and affiliated cohorts have a few days of holiday relaxation, that's more than appropriate… because over the next three months, the momentum is just gonna keep building, and the chaos of making a film will soon consume us.  Finally!
 December 28, 2014
Location scouting is still at full momentum, and the casting process has left all but a few roles to be filled.  This, combined with scheduling, camera tests, production design prep, special effects prep, and the daily task of hunting down the balance of our funding certainly has me booked solid.  So of course, I'm adding more to my plate!
In addition to the IN MEMORY OF pre-production workload, we are in the early stages of coordinating a two-disc re-release of DEADWOOD PARK, to be distributed by Toetag Inc.  I've just started digging into the archives to determine what can go on this release, and how much work/time it's gonna take to pull this off before IN MEMORY OF production begins in March.  It is also looking like I'll be taking on a substantial editing job, again cutting documentaries for an upcoming Paramount release, as early as February 1st.
January 5, 2015
The past week has been a vortex of IN MEMORY OF production meetings.  An hour on the phone with Jeff Wedding.  A five hour meeting with special effects artist Bob Nealon.  Three hours discussing character and wardrobe with DJ Vivona.  Three hours discussing character and wardrobe with Emily Haack.  And a whopping six hour meeting with production designer Trevor Williams.  This week it's a lengthy meeting with producer/actor Jim Ousley, another meeting with DJ right after, an in-depth character/wardrobe meeting with Jackie Kelly, and more location scouting with Jason Christ.  Plus, I need to coordinate several production operations with Jason Limberg, Gus Stevenson, and Adam Ahlbrandt this week, if possible.  I must lock casting and a shooting schedule by the third week of this month, so there is much to do in a short period of time.
We've made a major step forward in securing the balance of the funding needed to get through production, but we're still only two thirds of the way to that finish line.
In other news, IN MEMORY OF star Jackie Kelly received some great news last week.  She was the lead actor in an excellent short film called THE DRESS, in which she delivers a spectacular performance – and this short film is now an Official Selection of the 2015 Melbourne Queer Film Festival.  This is a pretty big deal, as the fest is the longest running queer film festival in Australia, one of the longest running queer film festivals in the world, and the largest queer film festival in the Southern Hemisphere.  Not an easy fest to get into.  I'm happy for and very proud of THE DRESS director April Berryman and star Jackie Kelly!
IN MEMORY OF will mark the feature film debut of Ms. Kelly.
January 11, 2015
Trying to produce the upcoming 2-disc DEADWOOD PARK DVD re-release while keeping up with IN MEMORY OF pre-production is gonna make my head explode.  Thankfully I have Jackie Kelly, Jason Christ, Trevor Williams, and Gus Stevenson backing me up on this huge DVD project.  I am lucky to have such an amazing team.
We're still scrambling to find the last of the IN MEMORY OF locations before we start shooting March 1st.  We've nailed down the diner, the rest stop, the primary cabin location, the lonely country road out in the middle of nowhere, the abandoned hotel, and the apartment and motel room interiors.  We're still on the hunt for a gas station, a television interview set, and another primary location: a space where the under-the-radar medical experiment will take place.
 January 18, 2015
One of the most important locations in the script is the abandoned building where the underground medical experiment takes place.  This has also been an incredibly elusive location to land for the film.  Yesterday, however, Jason, Jackie, Jerry, and I scouted a 100 year old Studebaker dealership and multi-story showroom.  This building, abandoned since 1999, is perfect for the film.  The location is not yet 100 percent locked down – we're still forging the deal with the building owners.  But I really hope we get this location.  Here are some photos from the location scout.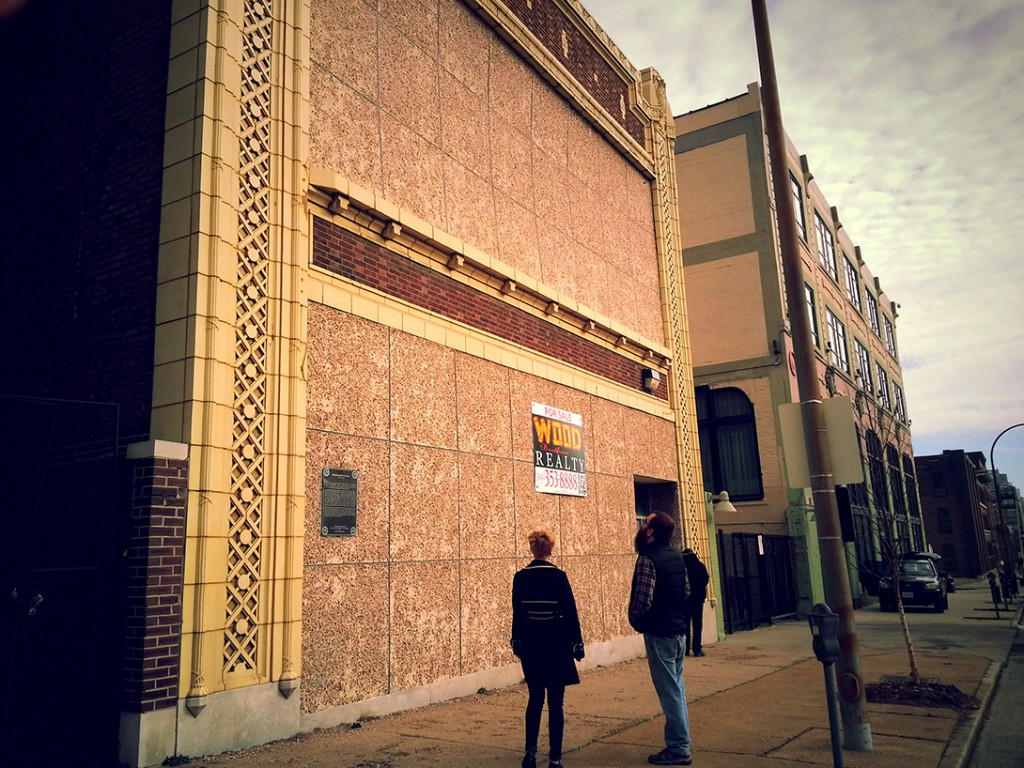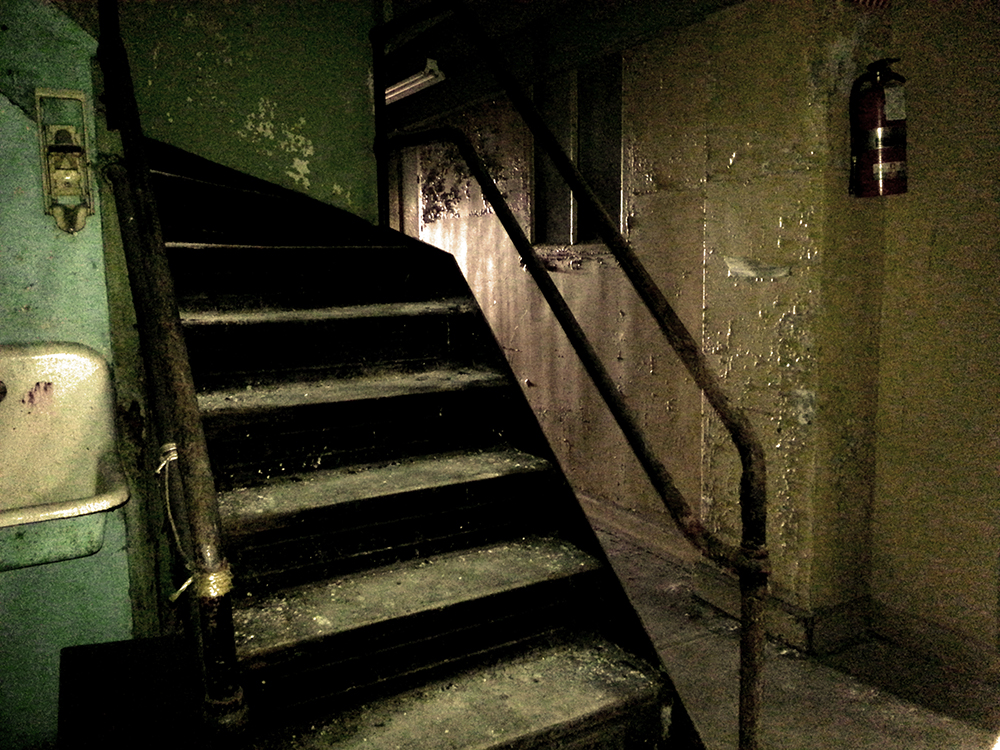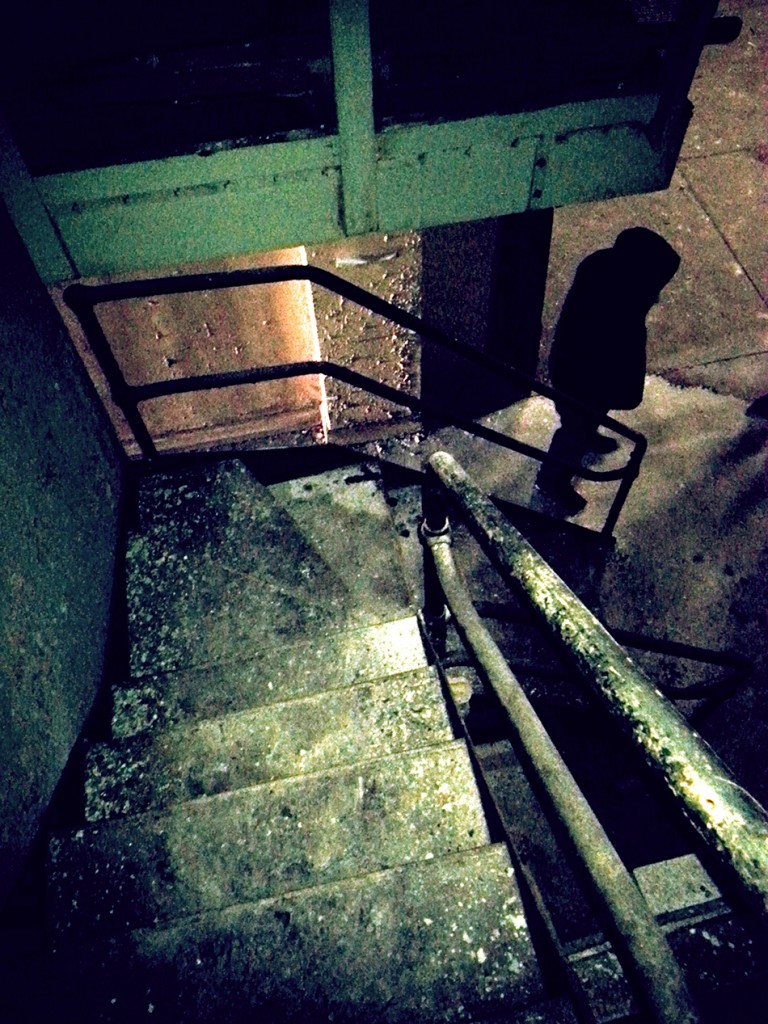 January 26, 2015
We had a huge production meeting yesterday and it went very well.  Everyone is now in full "panic mode" to pull all the pieces together we need for IN MEMORY OF before the first day of shooting on March 2nd.  Art department especially has kicked into overdrive.  Everything from the "hero ax" used in the final confrontation, to a heavily featured vintage wheelchair, down to Aunt Jeanette's tea cups are being worried over and collected.  Today I worked a straight 15 hours on IN MEMORY OF prep, juggling shooting schedule issues, Jackie Kelly's wardrobe, art department concerns, lighting concerns, and location concerns.  Tomorrow I begin camera tests.
February 1, 2015
We start shooting in a month!  There is so much to do, but the team is kicking ass, and all of the elements are falling into place.
I'm beyond pleased about what a spectacular cast this movie is going to have!  We recently secured Katie Groshong for a supporting role.  She starred in A MEASURE OF THE SIN, and she has a supporting role in JUG FACE.  I'm a big fan of both films, so having her in the IN MEMORY OF cast is very exciting.  I'm currently talking to Haley Jay Madison (HAUNTED HOUSE ON SORORITY ROW) about filling one of the roles that still needs to be cast.  I think I'll know for sure if she is in the movie or not within the next 48 hours.  Angelia Sanderson, who played the dying woman in the van at the beginning of my movie SCRAPBOOK, will be joining us for a bit part cameo in IN MEMORY OF.
Funding is only coming in at trickle speed currently, but Jason Christ has made great progress in lining up the last chunk of money we need to not only get through production, but get our two "name actors" as well – Andrew Sensenig (UPSTREAM COLOR) and Adrienne King (FRIDAY THE 13TH).  Both have been attached to this film for months, but we've been waiting until we have the budget we need to get 'em before we officially announce them as being in the cast.  We'll know within the next two weeks if the funding Jason is lining up is going to come our way.
February 8, 2015
All of the roles for the film have been cast, with the exceptions of "Aunt Jeanette" and "Graham".  We have all of our shooting locations now, but the big one, the clinic / abandoned building (the old Studebaker dealership / showroom) is not 100% locked yet, which is making me nervous.  All of the other pieces are falling into place, but it is a crazy balancing act.  Getting all the moving parts – actors, crew, special effects, art department, locations, gear, transportation, etc. etc. etc. – to work together (and land in the right place on the right shooting day) is beyond challenging.  But I've got a great team, and we're gonna make this work spectacularly!
February 15, 2015
IN MEMORY OF rehearsals start today.
February 24, 2015
With the first day of shooting less than a week away, production design and special fx tasks seem to be falling into place superbly, rehearsals are going very well, and the last of my camera gear – which had been held up in customs – is now in my hands.  The film is now 100% funded.  We have the money we need to get through production.  Sadly, we did not raise enough money to add Andrew Sensenig and Adrienne King to the cast.
Generating far more stress is the fact that I'm dealing with location problems, insurance problems, a couple of lingering casting problems, and transportation problems.  This is also a phase of the project in which my attention is being pulled in ten different directions simultaneously every day.  But I'm holding up fine, my team is amazing, and we're powering through it all.
March 1, 2015
Day 1 of shooting is tomorrow.  The past few weeks have been about as chaotic, insane, and stressful as I thought they'd be.  On a small indie film, everyone wears many hats, especially the director, and the complexities of this production are greater than I anticipated.  Keeping all the plates spinning, and making sure each little detail is being locked down has left me exhausted and kinda numb.  It's pretty insane, how many directions one's mind must go in to bring a team to day one of a logistically complicated, purely independent feature film.
I've spent days working with Doc Brown getting the truck ready which will haul our grip and lighting equipment for the shoot.  I've spent weeks working with all of the camera, lighting, grip, and electric gear, to make sure it's working properly, and organized for the shoot.  I've been rehearsing with the lead actors.  I've been dealing with locking down locations (we're still not 100% locked on all our locations).  I'm even still dealing with casting… two of our supporting roles are still not cast.
Every day, I'm juggling at least five conversations: providing information to Bob Nealon as he preps special effects, working with Trevor William to nail down the final art department needs, talking to actors about their wardrobe, communicating with Jason Christ about our production insurance, making fine tuning decisions about the shooting schedule with Jeremy Wallace, discussing hair color and cut with lead actress Jackie Kelly, walkie-talkie procedures with Matt, audio with Gus, camera crane with Ben, lenses with Chris, inclement weather contingency plans with Tom, meals, transportation, fake blood, scheduling crew, buying spare 1K lamps for our lights, etc. etc. etc. etc. etc…  Yesterday I found myself working on our gear truck, texting back and forth with Jeremy about the shooting schedule, and looking at approval pics being texted to me for the shoes and tights Emily Brown will be wearing as "Joy" in the movie – then at 3:30pm I had to stop all of that to switch brain gears and go into rehearsal with Jackie and Jim Ousley.  After that it was back to prepping day one of the shoot for another seven hours, both as a producer and as a director (designing my shots and really planning things out from a visual and performance standpoint).  I've been working on this movie 16 hours a day, 7 days a week, for about two months.
I should be cracking under the pressure and getting very frustrated – but I feel like I'm holding up fine.  A few reasons:  My team is amazing.  I can't be everywhere, doing everything at once, and when I reach the limit of what I can be doing, someone on this team steps forward to accept the responsibility and make it happen.  I'm lucky to have this very sharp, very reliable crew.
Also, this ain't my first day at the rodeo.  I've been through production of numerous under-funded, over-complex feature films, so the workload and pressure is not a surprise.
And finally, I've come to know this stress and pressure as part of the thrill.  You could view that as masochistic, and maybe it is, a little.  But instead of getting off on the agony, I tend to simply be grateful that I still (in my early 40s) thrive on the excitement of doing something so difficult, something that only a handful of people could do, because it is such a test of one's determination in the face of adversity, and one's mental and emotional fortitude under intense and long term pressure.  99 percent of Americans would never elect to take on such time-consuming, exhausting, and sanity-eroding endeavors – so the fact that I continue to do so, willingly, reminds me that I'm still fueled by the excitement of challenge, a desire to explore uncharted territory, and a passion for learning new things and keeping life interesting.  At my age, most people are trying to minimize such stuff.  I'm happy that I'm doing the opposite.
For Scene 79, the first scene we are shooting tomorrow, we had to build a television interview set.  We built this and pre-lit the set two days ago.  Here's a pic.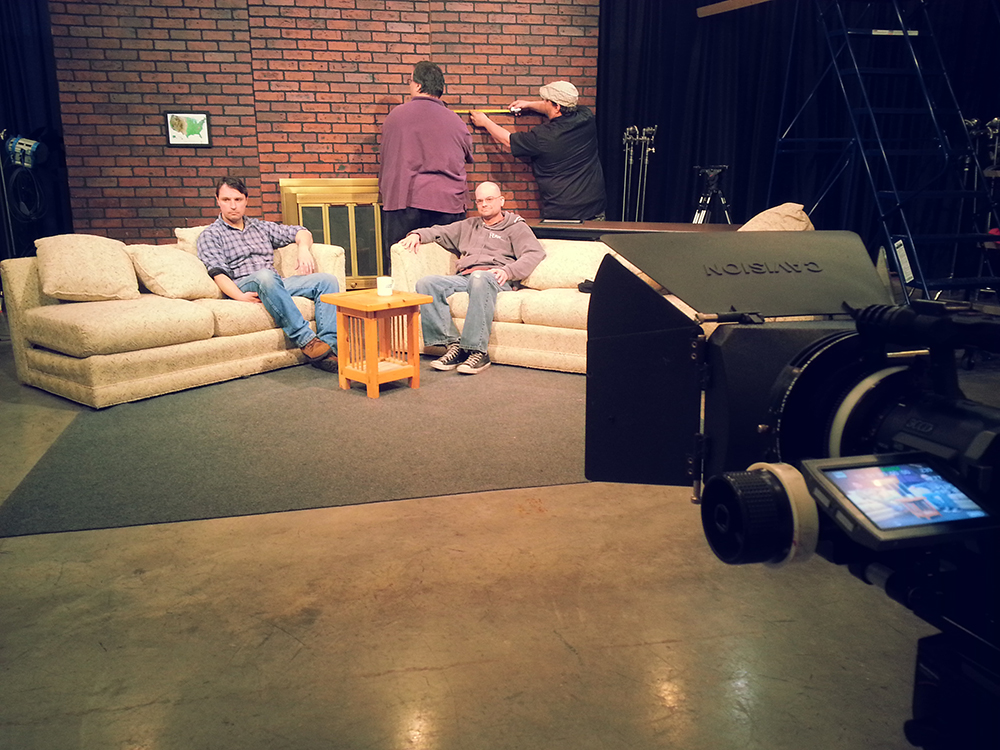 We're off and running.  Let's do this…
March 17, 2015
The machine has come to life, and it is menacing and glorious.
We've plowed through the first 8 days of our 46 day shooting schedule. Of course, production problems have been hurled at us at every turn, starting on Day 1, but we have blasted through them all, stayed on schedule, and are getting amazing looking footage and outstanding performances from the cast.
The first emergency popped up an hour before call time on our first day of shooting.  A supporting actress, heavily featured in the first scene we were shooting, had become very ill and could not come to set.  We had our location for that day only, so postponing the scene was not an option – plus I had no interest in chipping away at a very complicated, precariously-balanced shooting schedule, especially right out of the gate, on Day 1.
I spent the first two hours of the shoot re-writing the scene to work around the problem.  We grabbed actor Travis Brown, who was there to play a tiny part with no dialog, and bumped him up to being featured in the scene.  He had 20 minutes to learn the two pages of dialog I'd just written.
At this point we had no idea if our sick actress – who was cast as the character "Joy" – would be available to us at all for this movie, so not only did Jason have to learn freshly rewritten dialog, not only did Travis have to be thrown into a hastily created character, but we had to shoot two versions of everything… one version where Travis and Jason referenced "Joy" and one version where Travis and Jason referenced "Joe" …in case we needed to re-cast "Joy" with a male.  Travis and Jason both did an amazing job, especially under the circumstances.  We shot a really cool scene and we stayed on schedule.
Then, after three days of debating the issue, and evaluating our situation with the sick actress, we made the decision to recast her.  I'm glad I shot the alternate versions on Day 1 because we did indeed cast a male replacement.  Gus Stevenson, who has been working with me for years, and has small roles in DEADWOOD PARK and RATLINE, is now playing "Joe" in IN MEMORY OF.
This past weekend, Thursday through Sunday (Days 5, 6, 7, and 8) were the biggest days of the whole shoot.  For these four days only, we had the entire cast together.  We shot in the abandoned two-story Studebaker dealership building downtown – and it was freezing cold inside.  We shot a LOT.  Plus, there was a ton of violence and blood, so makeup effects (which are always time-consuming) added to the challenges.  Thankfully effects artist Bob Nealon was on it – he did a spectacular job.  Of course this meant my actors were covered in blood in the freezing cold, shivering their asses off.  This seems to happen a lot on my films.
On Day 8 we shot the dreaded Scene 57… three pages in the script, shot in one long continuous, unedited take.  Here is a pic of us setting up for this scene/single shot.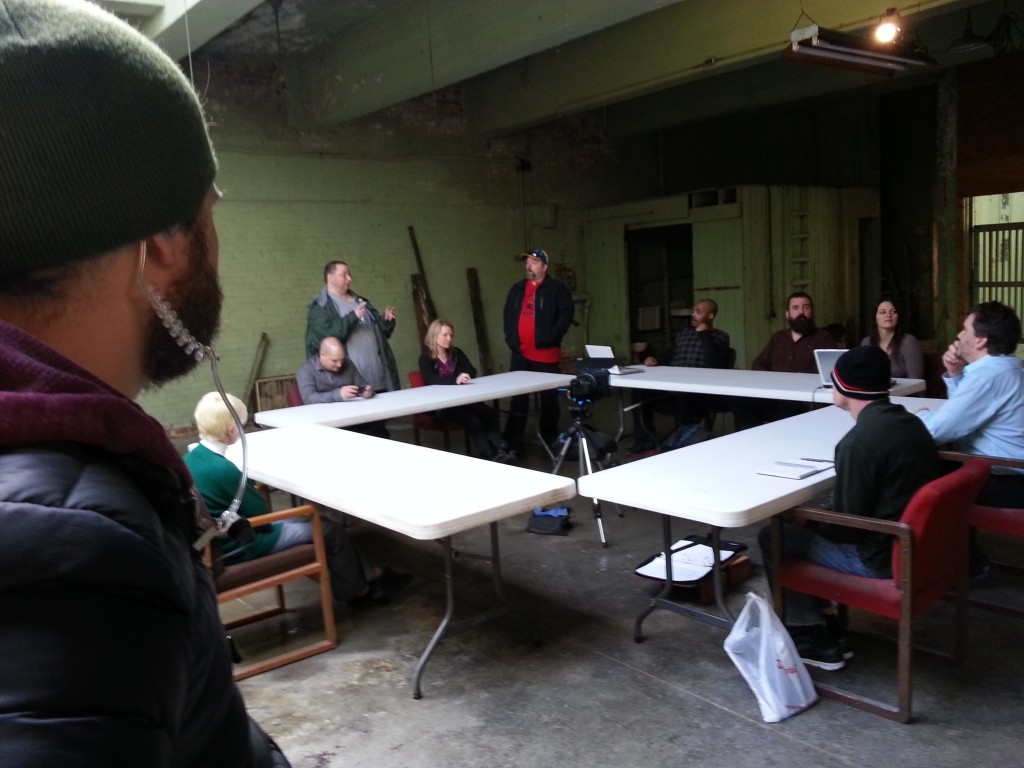 The whole cast is in the scene/shot.  They're seated around the four tables, and all the dialog was covered by the camera in the center, panning 360 degrees.  That's Jeff Wedding on the far left of the photo.  He is the director of A MEASURE OF THE SIN, a film I like and admire very much.  He came to this shoot to be my AD, and he thoroughly kicked ass.  With the challenging quantity of setups, complex special effects, and a large group of actors, I now can't imagine making it through this stretch of days without Jeff AD-ing for me.  He had to jump off after we wrapped Day 8, which is unfortunate.  I wish he could AD through the whole shoot.
Another member of the A MEASURE OF THE SIN family who joined us was Katie Groshong.  She played the lead in MEASURE, and she had a supporting role in JUG FACE, another movie I greatly admire.  Katie plays a supporting role in IN MEMORY OF.  This is a big thrill for me, being such a fan of MEASURE and JUG FACE.  Not only did Katie deliver a fantastic  performance, she was an absolute joy to be around.  Here is a pic of me with Jeff and Katie – peers who I've admired from a distance for a while, now friends who I'm eager to work with again in the future.
March 23, 2015
After months of jumping through hoops to get the location, and seven freezing cold days shooting some of the most pivotal scenes of the movie there, we are wrapped at the old Studebaker location in downtown St. Louis.  The whole cast did a phenomenal job, but extra congrats goes to Jackie Kelly for delivering a great performance and spending hours each day covered in blood and freezing her butt off!
 March 31, 2015
When we were location scouting, we looked at a warehouse in southwest St. Louis as a potential location to shoot our clinic interior scenes.  The warehouse was too neat and clean to use for this set (we ended up shooting in the spectacularly run-down abandoned Studebaker building downtown for our clinic interior sets).  However, when we scouted this southwest warehouse, I noticed a rusty, barricaded-off bridge just outside the warehouse front.  It looked great, and though we didn't have such a location in the script, I decided I wanted to shoot it.  This past Sunday, we spent a long 17 hour day shooting various exteriors, including this rusty bridge.  It looks awesome in the footage, and it makes for a great spot to spend some pivotal moments with Jackie before and after her nightmare experiences inside the clinic building.
Speaking of locations… I learned when we scouted the Studebaker building that its surrounding streets and alleyways were used as locations in John Carpenter's ESCAPE FROM NEW YORK.  You can actually see our Studebaker building in Carpenter's film.  The street in front of the building was used heavily for that shoot.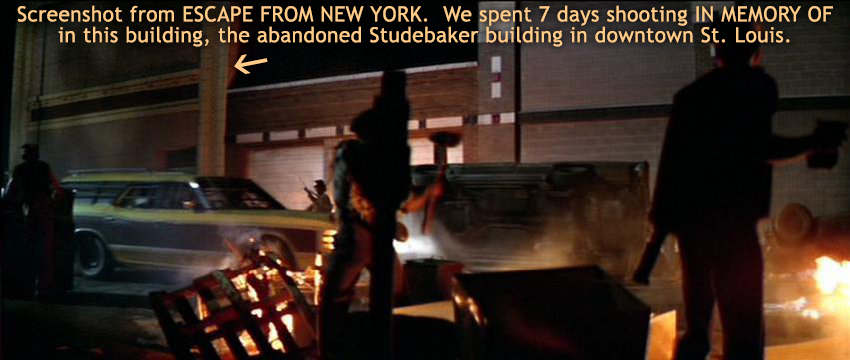 Another tie-in our locations have to cinema history:  The exterior of our clinic building is a separate location from the interiors.  For exteriors, we shot an abandoned factory near the intersection of Gravois and historic Route 66.  This abandoned factory is beautifully foreboding, looming five stories high and textured in rust and broken windows.  It also happens to have been owned at one time by Vincent Price's family.
Our 17 hour shoot last Sunday also included getting shots crossing the Mississippi on the Martin Luther King Bridge, various driving-through-downtown-St. Louis shots, and stealing a few shots at dusk of Jackie driving into the parking lot of a motel up near the airport.
April 17, 2015
We are back from our eleven day "road trip" segment of production, a non-stop whirlwind shoot that took a splinter unit through Missouri, Oklahoma, Texas, New Mexico, Arizona, and Utah.
IN MEMORY OF takes place on the road, but our budget did not support taking the full cast and crew through this phase of the shoot.  So, most of the interiors are being shot locally (St. Louis) with the full crew, while exteriors and road travel footage was shot by said splinter unit, which traveled the exact same route as the character in the movie.  While bigger budget films would have hired a separate director to shoot these sequences, there is no 2nd Unit or Splinter Unit Director on IN MEMORY OF… which is great, because I greatly desired the experience of shooting these sequences myself.  In fact, wanting to make a road-trip film was a primary reason I put IN MEMORY OF into production, so I wasn't about to turn these sequences over to someone else!
Much of the shooting took place in the main character's moving car, while another huge chunk of the shoot was made up of shooting motel exteriors, signage, Jackie Kelly getting into and out of her car in motel parking lots, and such.  However, we did shoot three full – and very important – scenes on this leg of production: a dialog scene inside one of the motel rooms, our bizarre "linking rings" sequence shot just outside of Sedona, Arizona, and another fever-dream hallucinatory sequence out in the desert during our three days in Moab, Utah.  We also shot a strange scene on a nearly abandoned stretch of highway somewhere near the Arizona / Utah border, which included Jackie swerving around Jason Christ, who is standing nonchalantly on the double yellow line.
Photo Jason took of me while shooting near Sedona, Arizona: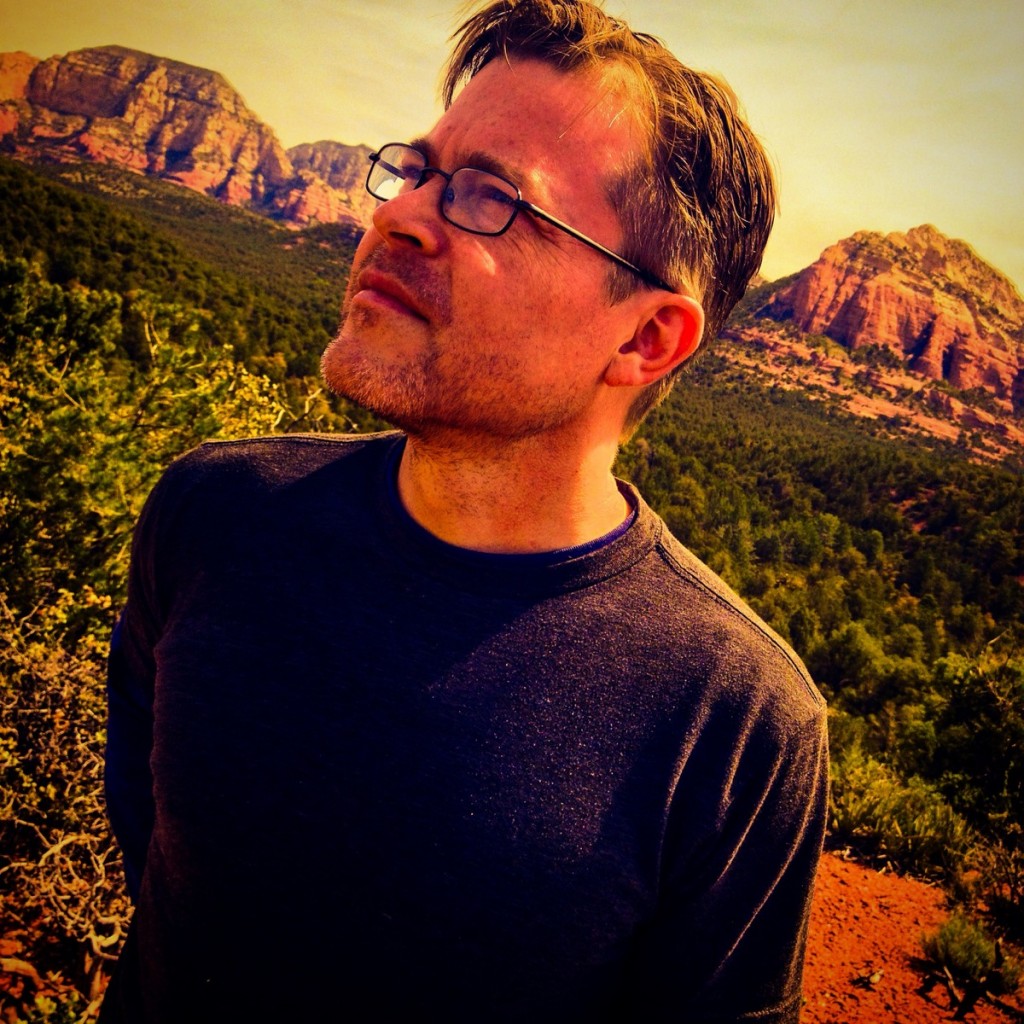 Our set for one day, an isolated patch of desert near Moab, Utah: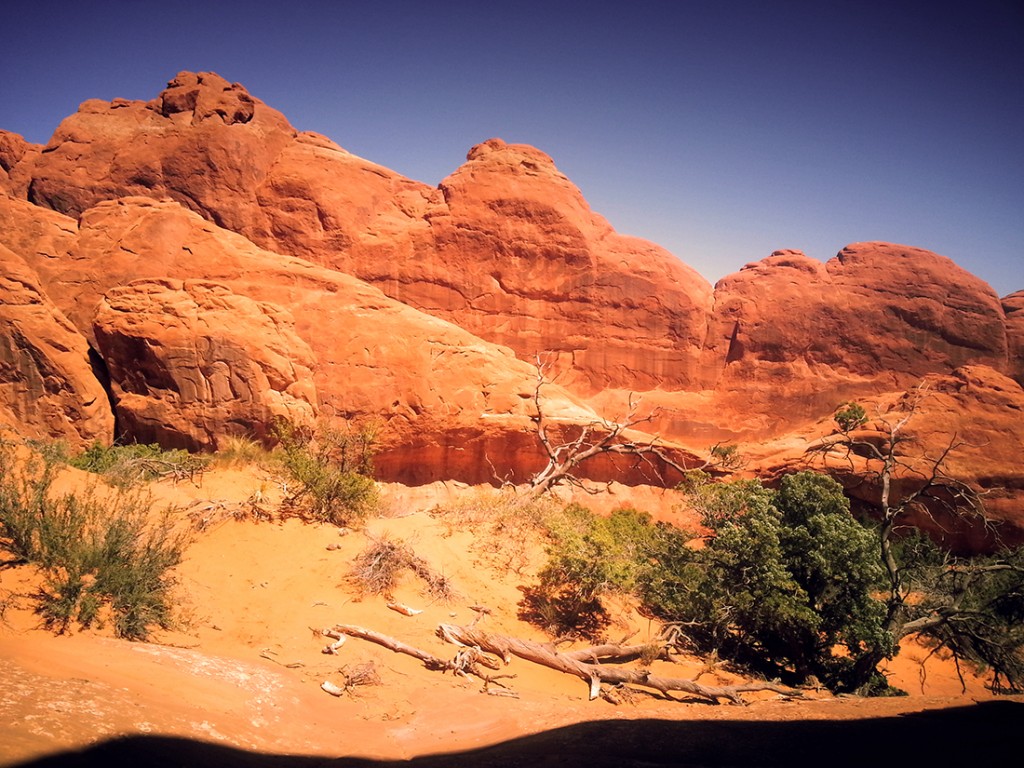 Pic Jason took of me in the desert, shooting in Utah:
Road-weary renegade filmmakers, Jackie Kelly, Jason Christ, and myself, squinting in the desert sun: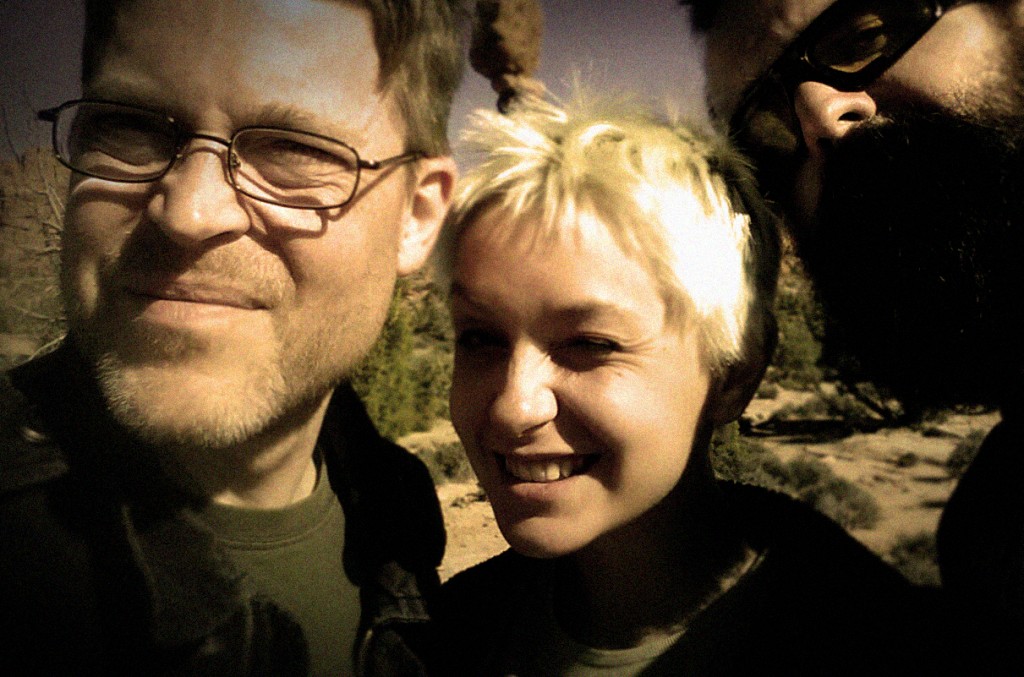 April 21, 2015
So far as I can recall, I've never started shooting a movie without the entire cast locked.  IN MEMORY OF has been an exception.  In addition to having to replace a supporting actor on day one of the shoot, I had to start production with two of our supporting roles still vacant.  The "Aunt Jeanette" character starts shooting mid-May, and we cast that role only about three weeks ago, a quarter of the way into the shooting schedule.  Far more stressful was the casting of "Graham", another important supporting role.  We shot the first Graham scene this past weekend, and we'd only officially cast the role about a week ahead of that.  I'm very pleased we got Jason Allen Wolfe to accept the part of Graham.  I've worked with this talented actor on CHINA WHITE SERPENTINE and DEADWOOD PARK.  He delivered a great performance this past weekend, and it was awesome having Jason back on a movie set.
Here is the locked casting wall for IN MEMORY OF, finalized more than halfway through the shooting schedule!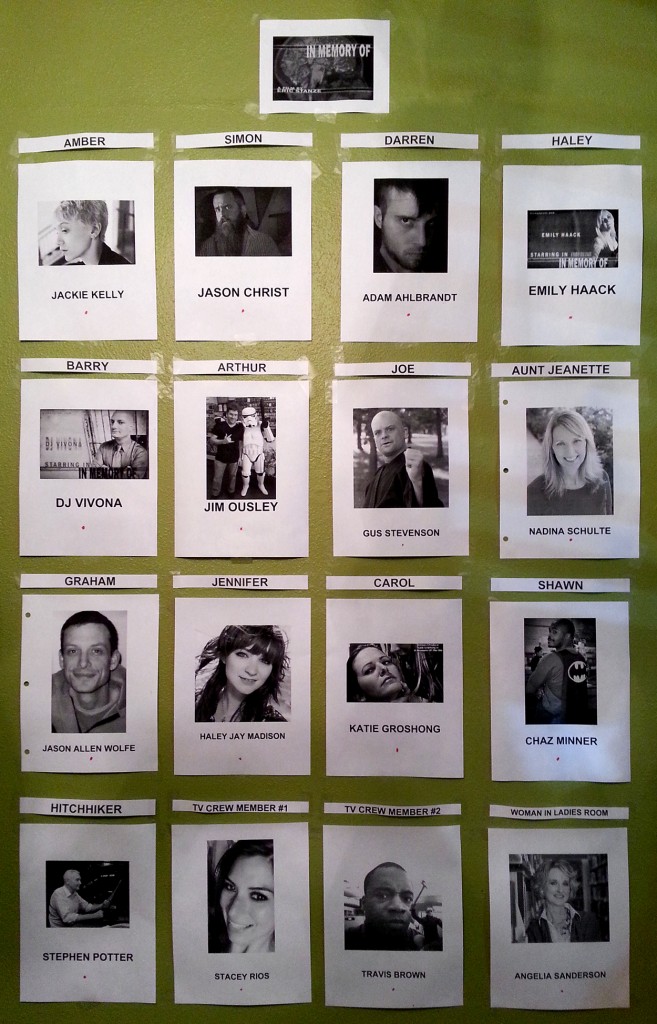 April 28, 2015
We are more than halfway through the shooting schedule.  Over the past few days we've focused on scenes featuring Emily Haack.  We shot out in the middle of wide open farmland in cold and rainy weather with Emily and actor Stephen Potter (who played a tired, irritated doctor in DEADWOOD PARK and an intellectual bookworm type in RATLINE).  In IN MEMORY OF, he plays a kind and gentle hitchhiker.  We then moved on to some motel room interiors with Emily and Jackie.  Em still has several bits and pieces to shoot for this movie, but these motel room interiors represented the last of her dialog on this shoot.
Yesterday we spent several hours on some special set construction which will be put to use in a few days for a brief (but hopefully visually striking) scene featuring Haley Jay Madison.
And today is leading lady Jackie Kelly's birthday.  She is now the ripe ol' age of 22.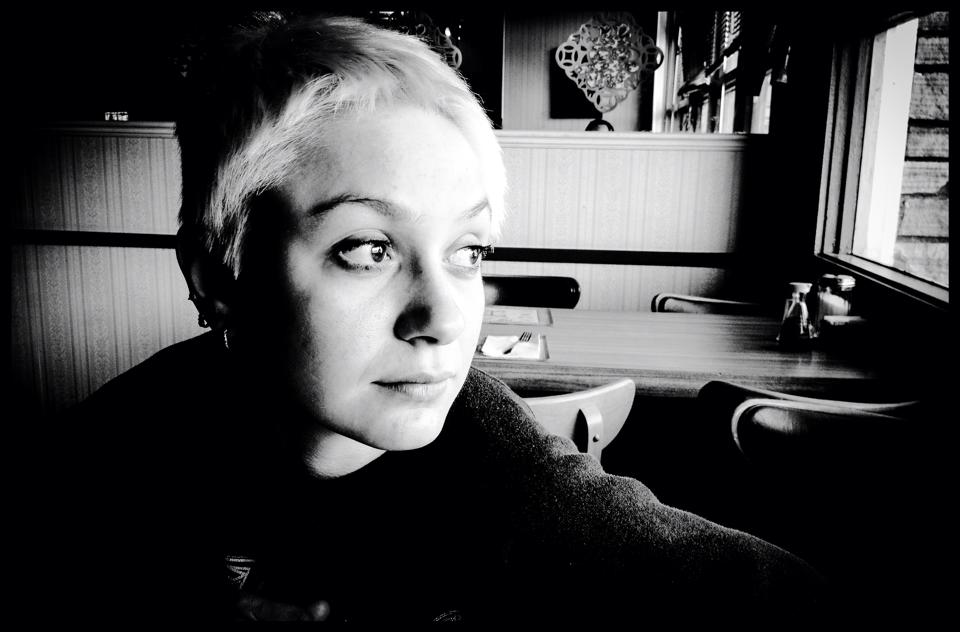 May 10, 2015
We enjoyed an incredible stretch of shooting with Adam Ahlbrandt and Haley Jay Madison, moving at a very quick clip but making great shots and capturing fantastic performances.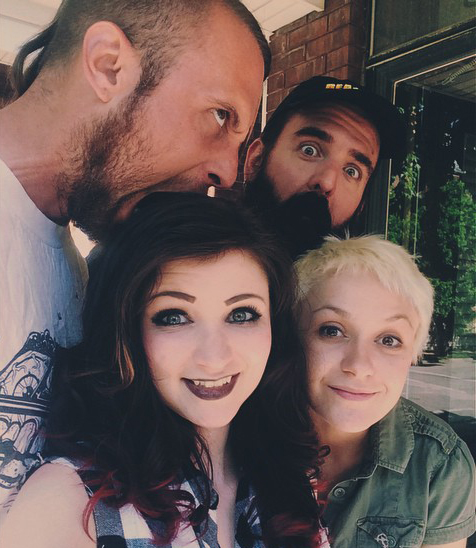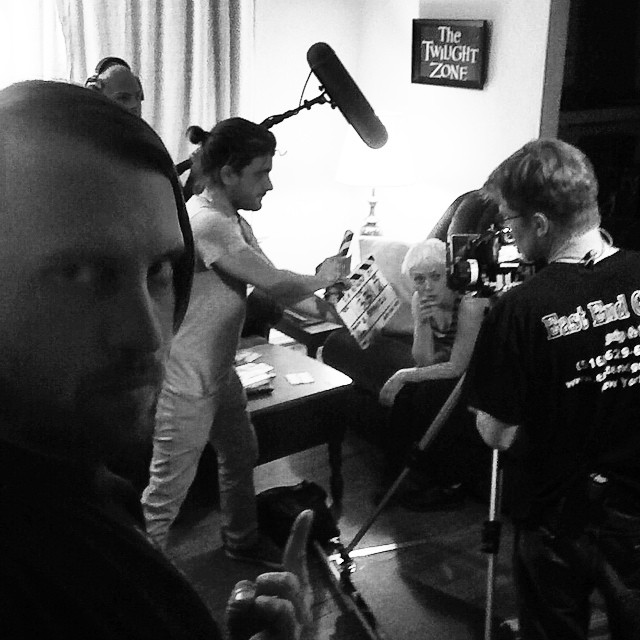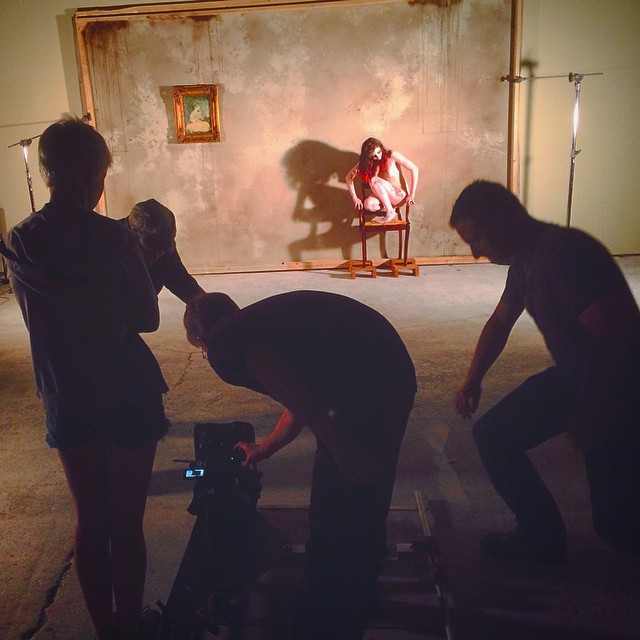 On Adam and Haley's third day in, we found ourselves shooting in a small river, complete with beautiful rock formations and mini-waterfalls where the water tumbled through the shut-ins.  The scene was a nightmarish "baptism" scene in which Adam and Haley take Jackie Kelly into chest-high water.  It was already a dangerous shoot, because everywhere there was water on rock, the rocks were slippery.  Crew were carrying gear into the river and setting up shots in the water.  Every step was tricky.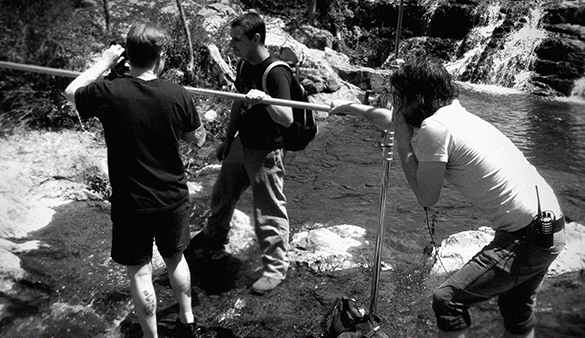 Thirty seconds after stepping into the water, a copperhead snake swam between Adam's knees.  After a brief freak-out, Adam hunted around the water's edge.  He found the empty shells of recently-hatched copperheads.  There was a whole nest of 'em somewhere on our set.
The snake that slithered by Adam ended up hanging out in the deep pool of water we intended to shoot in.  After failed attempts at chasing it away, my brave cast decided to get into the water and do the scene – literally ten feet from where the copperhead decided to camp out on the waterfall rocks.
We'd shot about 80 percent of the scene when the snake jumped into the water and began swimming right at us… fast.  This cast and crew of grown-ups immediately turned into a gaggle of nine-year-old girls.  With much splashing, struggling over the slick underwater surface to escape, we fled in all directions.  The copperhead swam right past us and (after getting hung-up briefly in my c-stands and sandbags) continued on down the river.  There were probably more snakes around, but we didn't see them.  We finished the scene, breathing a bit easier now that our reptilian set-visitor had departed.
The next day we shot (among other sequences) one of the most emotional scenes in the film, a very intimate moment between Jackie Kelly and Adam Ahlbrandt.  Both of them nailed the scene.  Big time.  A couple of crew members watching from behind camera even got teary-eyed.  I am so lucky to have the cast I have on this film.
May 13, 2015
Two days ago I learned that Nadina Schulte, the actress we cast to play the pivotal role of "Aunt Jeanette" had a death in the family and would not be able to shoot her two days with us this weekend as originally scheduled.  One day ago I was able to lock down Nadina's new availability.  I then began re-arranging the next (very complex) six days of our shooting schedule, bumping Nadina's scenes to May 23rd and 24th, and moving other scenes up in the schedule.
First and foremost, we feel for Nadina, and wish her strength in this difficult time.
Amazingly, Nadina… who is an absolute sweet-heart… has been spending significant time and energy making our shooting schedule overhaul as painless as possible, despite her mourning the loss of a loved one, and jumping through a hundred hoops of her own to get herself to an out-of-state funeral this weekend.  She is still excited about playing the role, and I'm impressed and grateful that she would consider IN MEMORY OF any kind of priority, given her current circumstances.  She is not new to the filmmaking process, and she did say she understands how difficult it is to completely dismantle and re-construct (on just a few days notice) six days of a shooting schedule that has been meticulously planned for months.
Hats off to my team for adjusting to all the new art department and special effects due dates.  FX artist Bob Nealon has it worst… special effects that he thought would be shot May 23rd and 24th are now being shot May 16th, 17th, and 18th.  I know that's only a week sooner, but Bob's workload is pretty intense, and suddenly being told he's lost a week of his prep has, I'm sure, caused him more than a little panic.  But Bob, and everyone else, is buckling down to make the schedule-re-arrange work.  Incredible team I have on this film.
May 21, 2015
We just finished four grueling consecutive days of shooting the ending to IN MEMORY OF, including the final fight sequence.  Fight sequences are always time-consuming because they are shot in such tiny snippets.  But we blasted through the final fight in record time, thanks to my sharp crew and to my pro lead actors Jason Christ and Jackie Kelly.  The same day, we also shot some complicated fx shots, which were also time-consuming.  But fx artist Bob Nealon nailed it – we got great looking shots, the fx functioned wonderfully, and we still managed to get the fx shots and the fight sequence shot in one night.  The final takes were done just as the sun was coming up.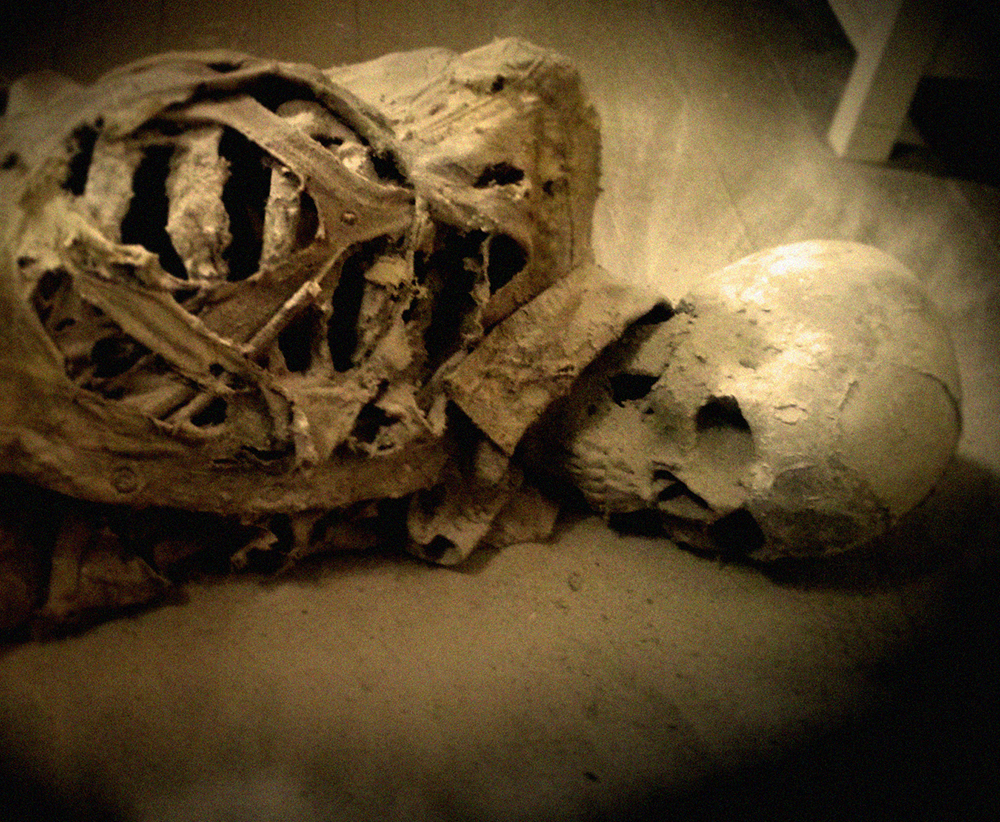 We also shot some hallucinatory moments that tie into our "clinic massacre" – which was shot last March.  This meant Jackie had to get back into her clinic wardrobe and be blood-splattered to match the March clinic scenes.  Poor girl has had to go through the 30 to 45 minute process of getting blood-doused to match these clinic scenes so many times since we wrapped those sequences two months ago!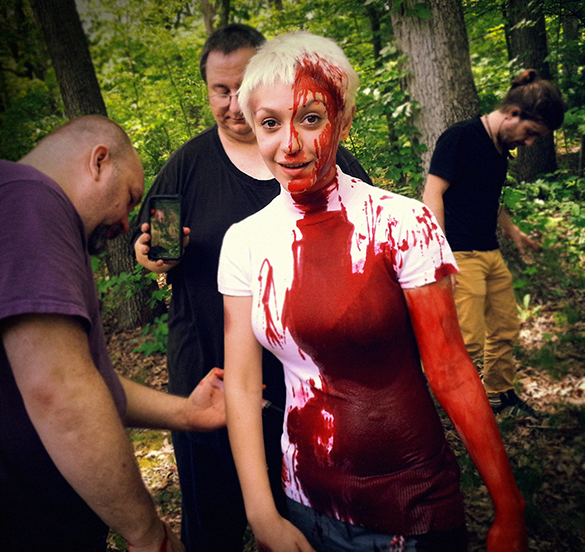 In two days we shoot the rescheduled Nadina Schulte scenes.  We only have six days left of principal photography (plus a stack of pickup shots scheduled throughout June).  We are nearing the end of the shoot… and I'm already starting to become melancholy about it.
This has been the most positive filmmaking experience of my 22 year career making movies.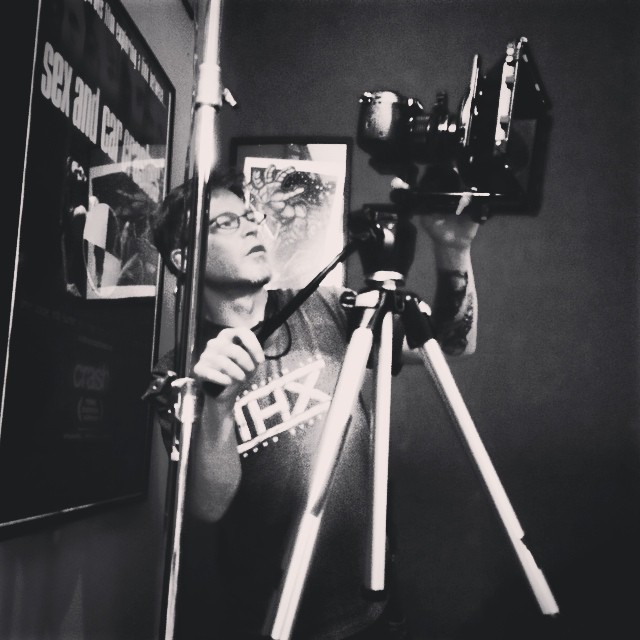 May 28, 2015
Our "red cabin" location was probably the 2nd most prominent location of the shoot (after the Studebaker building downtown).  We wrapped at the red cabin last weekend.  Unfortunately, the last few exterior shots were postponed when violent thunderstorms ripped through the location – so we'll be back in a few days to finish up those lingering bits.
Our days at the red cabin were punctuated by rain delays, poisonous snakes, and time-consuming special effects shots… but despite the hurdles, this stretch of shooting was extremely successful.
Our last two days there focused on the "family" sequences of IN MEMORY OF.  Pictured below:  Jackie Kelly as Amber Sheridan, Nadina Lee as her Aunt Jeanette, and Hailey Dunavant as young Amber.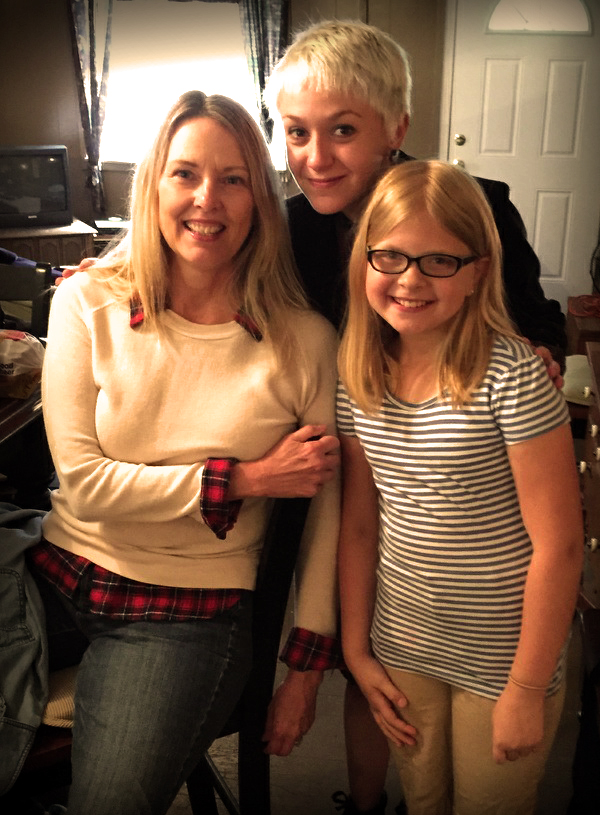 June 1, 2015
Last night was our second-to-last shoot of principal photography, and our last scene of dialog / sync sound.  The scene was an emotional and eerie conversation between Jackie Kelly and DJ Vivona, shot at a very cool-looking old-time diner in Hermann, Missouri.  I was determined to leave this location getting what I desired as far as performances… it's a pivotal scene, and Jackie and DJ had to nail it.  In two shots, a total of four takes, they did indeed nail it, and I knew I had the scene.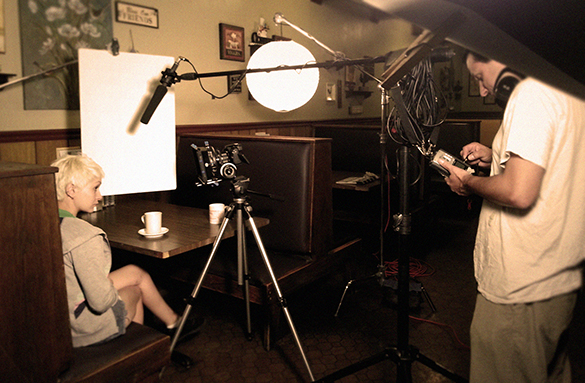 Then things got much more complex as we filled the diner with extras, and began executing crane and dolly camera moves.  Lisa Morrison, who I've been working with since she starred in my first film, SAVAGE HARVEST (which we shot back in 1993) joined us to AD last night.  I'm grateful she was there, as she did much to keep the shoot on target as the chaos unfolded.
It was a short day of shooting – only 8 hours (compared to our usual 12 to 17 hour day).  Jackie and DJ were excellent, delivering outstanding performances, and the entire crew functioned like an incredibly well-oiled precision machine – evidence of the rhythm they've achieved over the past 39 days of the shoot.  Only with Jackie and DJ functioning as solid pros, and my crew firing on all cylinders could we have shot such an important and complex scene in only 8 hours.
Day 41, our final day of principal photography, is this coming Saturday.
Special effects shots and big pickups days are already scheduled right after.  June will be just as grueling as March through May principal photography.  Even though there is much work to do over the course of June, I'm already feeling melancholy about the fact that this shoot is drawing to a close.  On June 28 – our final pickups shoot – it all comes to an end… and this amazing experience will transition from consuming my life 24/7 to existing only as wonderfully fond memories.
June 8, 2015
In addition to the many other jobs Gus Stevenson has on this film, he is one of the upper-ups in the art department.  For a kid's birthday party flashback scene, Gus custom-made this magic trick set.  He took a photo of me and used it for the magician on the box.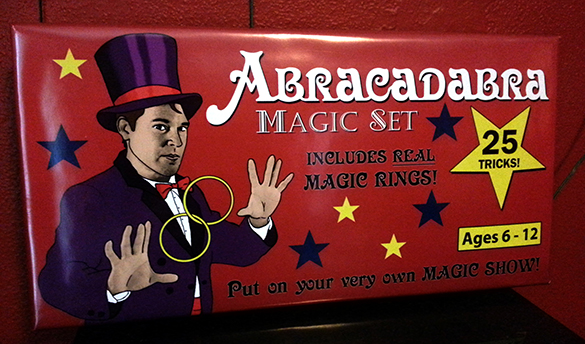 June 14, 2015
We are now in the thick of June pickup shots – all the bits and pieces of various scenes that were too time consuming to shoot on the day.  If it involved complex special effects, or especially time-burning lighting setup or set decoration, it was pushed off to June pickups.  Now, shooting requires executing complicated shots for multiple scenes each day – it's a lot to wrap my head around, and it's possibly more stress-inducing than principal photography… it's just a different flavor of production.  Three days ago, Jackie and Jason had to be re-blood-splattered to do the final six shots of a crimson-soaked fight scene.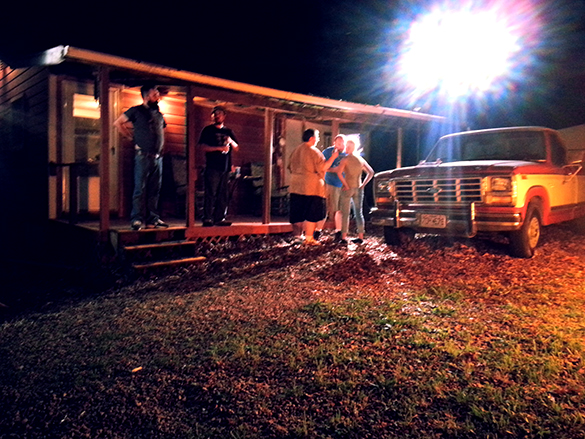 At the conclusion of these shots, we were all the way wrapped at the red cabin location, one of the primary locations for IN MEMORY OF.
Yesterday we shot small chunks of multiple scenes, including insert shots that will be dropped into the sequence we shot two months ago in Moab, Utah.  We also shot some hallucinatory bits that will be used in a sequence we shot three months ago at the Studebaker building.  Yesterday was a long day of shooting (15 hours) and we worked at a breakneck pace.  Despite the chaos, it was extremely productive, thanks to my amazing crew.
June 16, 2015
June pickup shots:  This past weekend we shot some abstract imagery for  the opening credits sequence and a few inserts to be dropped into the sequence we shot in Moab, Utah last April.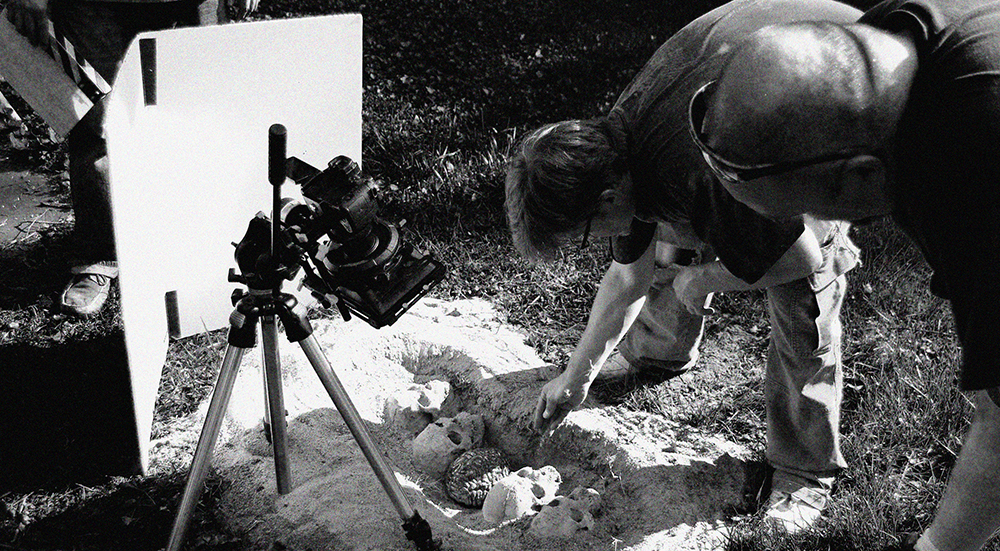 We also shot a few new fever-dream bits for our ambitious Scene 45.  This particular scene is a visually dense nightmare fun house ride.  Every moment in this montage represents a new, time-consuming camera and lighting setup with heavy special effects and set design needs.  We shot the bulk of Scene 45 last March in the Studebaker building, but because each individual (very brief) shot takes an hour or two to set up, we were unable to make the quantity of shots I need for the sequence.  So, we added a few more Scene 45 shots last weekend.  It all turned out wonderful… haunting, jarring, and horrific.
June 22, 2015
Yesterday was a 14 hour day of shooting pickups scattered all over the script.  We grabbed some on-the-road bits with Jackie, some shots at a highway rest stop, a few motel room shots, and a few shots in Jackie's character's apartment.  Half of the day was spent traveling from one location to another, but we still plowed through a ton of material.  A successful day grabbing disparate shots necessary to glue the movie together.
We only have one day of pickups left.  Then, after a total of 46 days of shooting, IN MEMORY OF is officially wrapped.  Our last day is June 28th.  This has been such an amazing shoot, and such an incredible life experience.  I've never been so melancholy about the end of a film's production.  I've never been so eager to start editing.  I've never been so excited about the prospect of (as soon as possible) re-teaming with my creative collaborators to launch a new adventure.
June 30, 2015
We are wrapped.  June 28th, 2015 was our final shooting day on IN MEMORY OF.
This has been a wonderful experience, and I am actually quite depressed that it is over.  My crew, all the producers, and every member of the cast were pulling in the same direction every day, overcoming the challenges and problems, and creating a film with me we can all be proud of.  I not only enjoyed working with and collaborating with this entire team, I've thoroughly enjoyed sharing the experience of shooting IN MEMORY OF with them on a personal level.  This has not only been the most positive experience I've ever had making a movie, IN MEMORY OF is one of the most fulfilling, exciting, enjoyable, and meaningful experiences of my life in general.
The final slate, for the final shot, on the final day of shooting, at the end of a wonderful four months of 2015 I will never forget, always cherish, and for which I will always be grateful.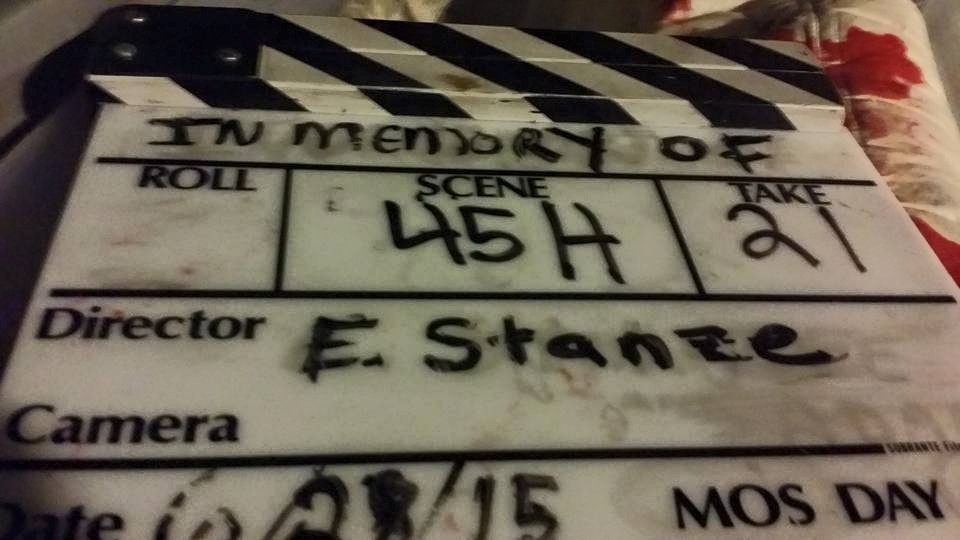 August 30, 2015
I'm currently submerged in a big editing project – a gig that I agreed to take on back before IN MEMORY OF started shooting.  I need to get through this job before I begin post-production on IN MEMORY OF.
I am the editor of all the behind-the-scenes documentaries for the Blu-ray of the Paramount Pictures release SCOUTS GUIDE TO THE ZOMBIE APOCALYPSE. It hits theaters October 30th. I've been working on these documentaries since two weeks after IN MEMORY OF wrapped. My delivery date for all the documentaries is in early September. I'll then take a minute to breathe – and begin IN MEMORY OF post-production in late September.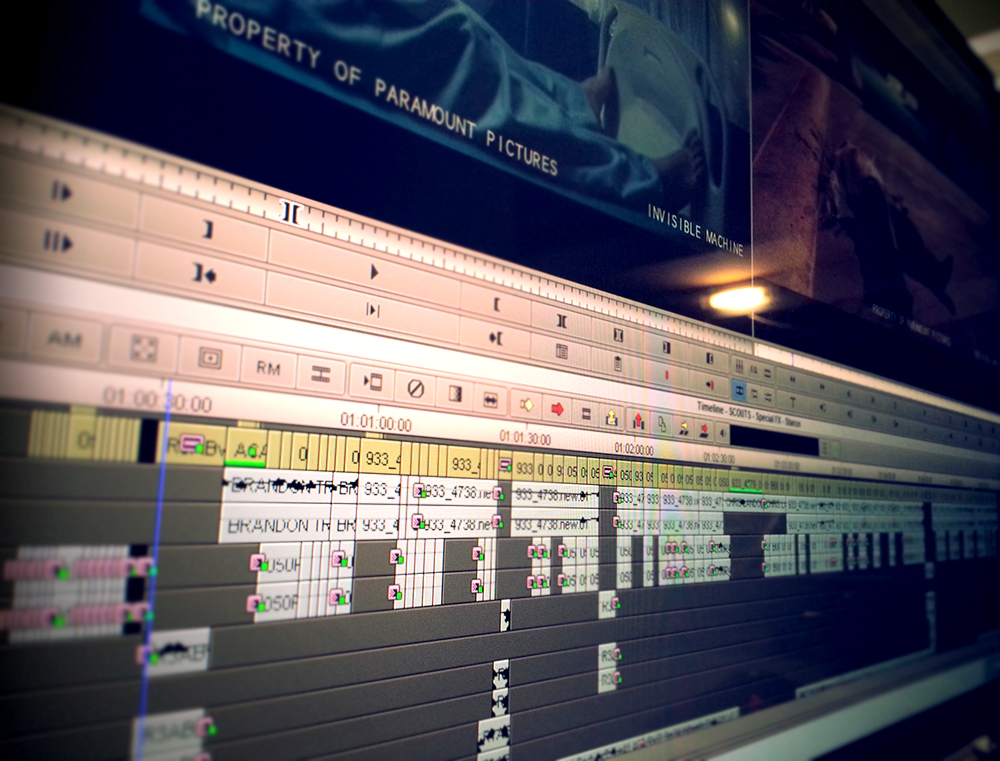 September 13, 2015
As of midnight this past Friday I am finally done with my editing gig on the SCOUTS GUIDE TO THE ZOMBIE APOCALYPSE behind-the-scenes documentaries.
Last night we had our IN MEMORY OF wrap party, which was held two months after wrap due to my above-mentioned editing gig.  Here's a pic of the cake that Mr. Jason Christ provided!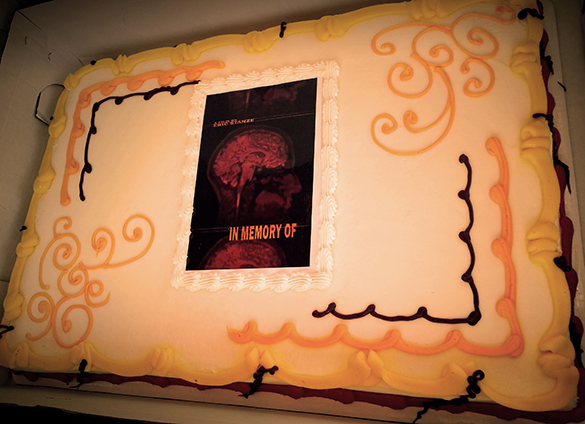 It was great seeing the cast and crew again. The wing-ding was a fine blend of reminiscing about the shoot, networking, and talking about the film projects we all have coming up in the near future. It was a thoroughly enjoyable evening, spent with wonderful human beings.
October 8, 2015
I am eyeball-deep in IN MEMORY OF post-production.
 November 2, 2015
We have a very long haul ahead of us in terms of IN MEMORY OF post-production, but at the moment we're actually a bit ahead of schedule.  Here is hard-workin' Adam Hardebeck toiling as my post-production assistant: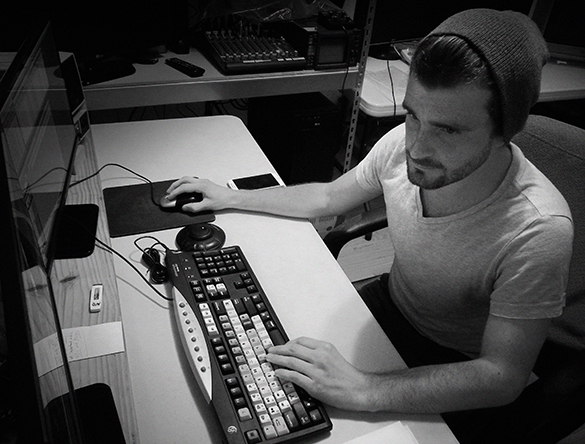 In music news, two more bands have signed on to contribute tracks to the film.  Dark ambient /
tribal noise / industrial music from the band Wychdoktor will be featured in the movie, as will a tune or two from avant garde junk-folk / bluegrass band The CharFlies.  Combine these with the psychedelic, heavy space rock tracks contributed by Tone Rodent, and the original score coming from Rocky Gray and Gus Stevenson, and we have an incredibly diverse collection of music for the film, delivered by amazingly talented musicians.
January 8, 2016
After getting a bit ahead of schedule, we paused IN MEMORY OF post-production over the holidays so I could make some money!  I spent December editing the behind-the-scenes documentaries for the upcoming Paramount Pictures Blu-ray release of ANOMALISA, written and directed by Charlie Kaufman (ETERNAL SUNSHINE OF THE SPOTLESS MIND, BEING JOHN MALKOVICH).  With that project out the door, I'm back into editing IN MEMORY OF.
During my ANOMALISA-forced break, some IN MEMORY OF momentum continued as Trevor Williams updated and streamlined our post-production workflow, and Gus Stevenson toiled on elements for the IN MEMORY OF music and soundscape.
February 1, 2016
IN MEMORY OF post-production is going smoothly.  Next week a small group of us will be recording audio elements for the soundscape.
March 1, 2016
Post-production is going very well – but it's a long, tough haul.  The cutting pace of IN MEMORY OF is faster than any movie I've made before.  More edits in the film means more time is spent in editing… so while I am extremely happy with the way IN MEMORY OF is coming together, post-production is progressing more slowly than usual.  Editing will continue full-steam throughout March, except on a few days when we'll be shooting some post-production pick-up shots.
March 25, 2016
This past weekend we spent three days shooting post-production pickups for IN MEMORY OF.  We picked up small insert shots for several scenes, but spent more than half our time shooting footage for the film's chaotic, fever-dream open credits sequence.  Here be a few pix snapped by production designer Trevor Williams: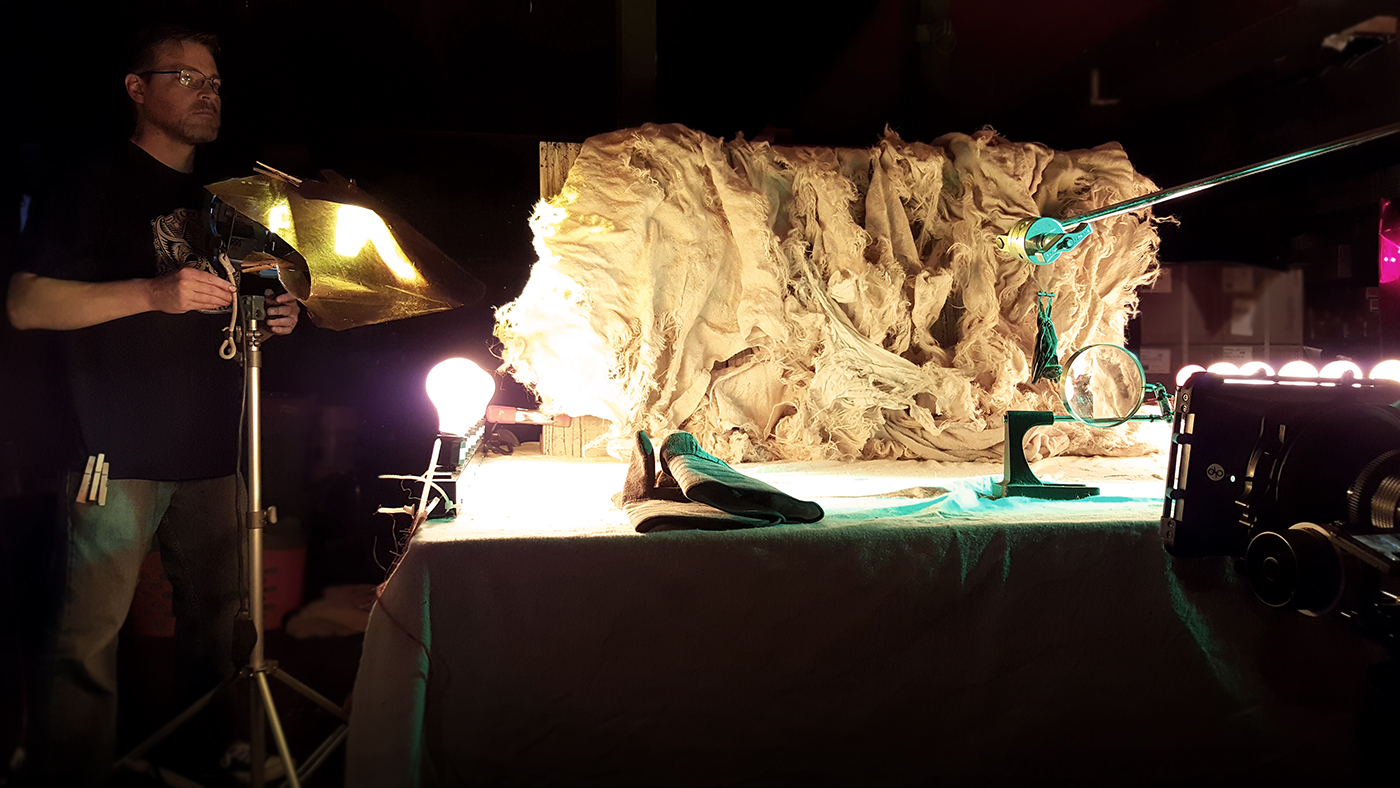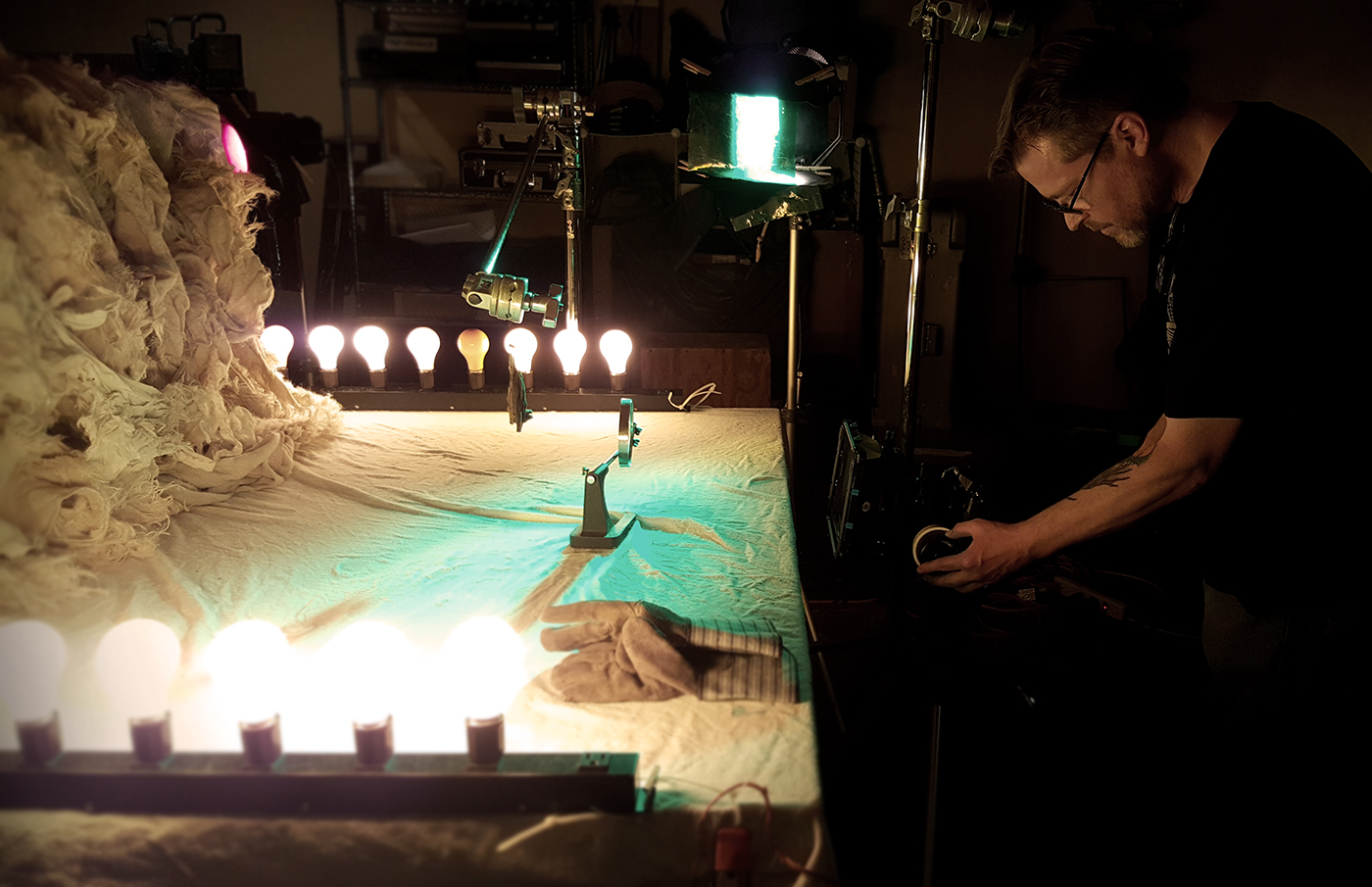 We also shot footage of production company mascot, Li'l Pixel for the new Wicked Pixel Cinema opening logo.  This is the very same Li'l Pixel wind-up toy seen in every version of our opening logo for the past two decades.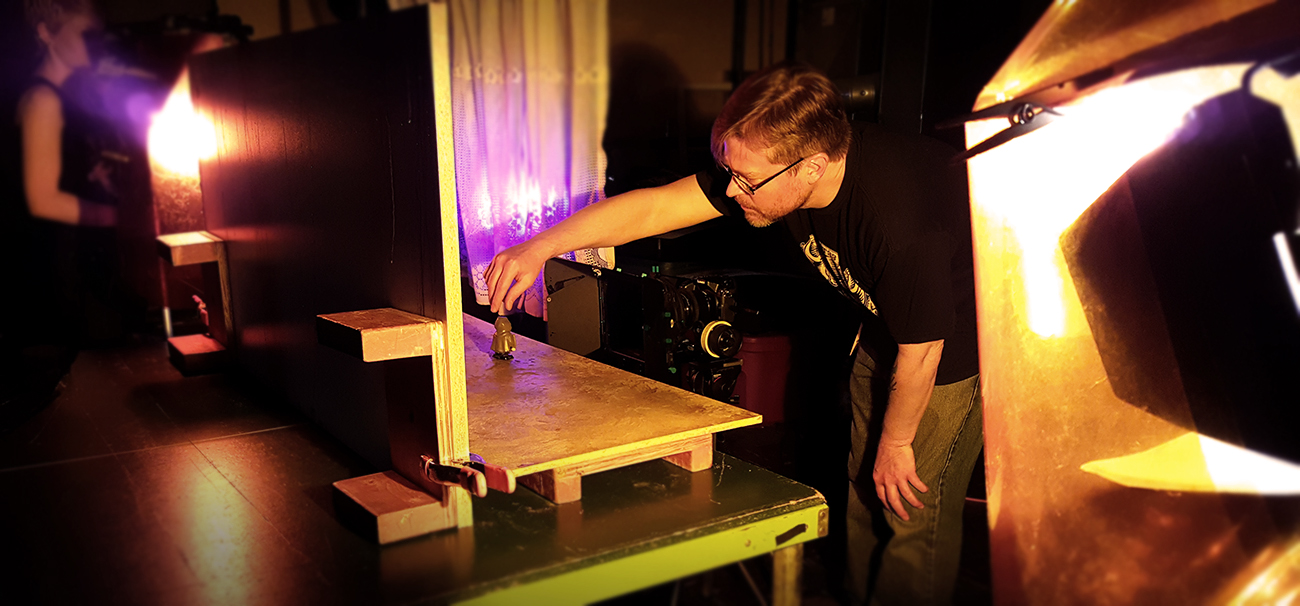 May 1, 2016
After two brief breaks in editing – for a few days of IN MEMORY OF post-production pickups in mid-March and an unrelated two-day shoot in Nashville, Tennessee at the top of April – I'm back on the Avid, and IN MEMORY OF post-production is going full steam ahead.
May 18, 2016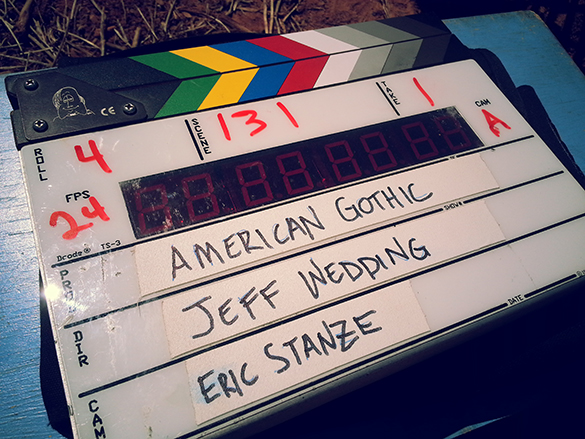 Editing on IN MEMORY OF is going smoothly and we are on schedule, though there is much work yet to be done.  Still, I'll be stepping away from the edit briefly this summer to work on another feature film: TENNESSEE GOTHIC, directed by Jeff Wedding (A MEASURE OF THE SIN).  I am the director of photography on this movie.  We already shot two days on TENNESSEE GOTHIC (originally titled AMERICAN GOTHIC), primarily as a camera test and to produce some footage for the film's IndieGoGo campaign.  I'm a huge fan of A MEASURE OF THE SIN, so I'm beyond pleased to be working with Jeff Wedding on his new motion picture.  Jeff is a very talented filmmaker, and his offer to me to DP his new film was an offer I could not refuse.  So I'll be editing on IN MEMORY OF right up until the TENNESSEE GOTHIC shoot – and then as soon as we wrap, I'll be back on the Avid, pushing IN MEMORY OF toward the finish line.
By the way, TENNESSEE GOTHIC will re-unite many of the cast and crew from IN MEMORY OF, including Jackie Kelly, who plays a leading role in TENNESSEE GOTHIC – which will also feature Jason Christ and Jim Ousley in supporting roles.  Katie Groshong, who starred in A MEASURE OF THE SIN and plays a supporting role in IN MEMORY OF is producing TENNESSEE GOTHIC.
June 14, 2016
IN MEMORY OF post-production continues to chug forward, and the film is lookin' good!  Weird and good!  Progress slowed a wee bit the past couple weeks as time was spent improving some shaky location sound – but all has ended up awesome.  In about a week I'll officially shut down post-production to begin full-on prep for TENNESSEE GOTHIC.  Then, this August, I'm back on the Avid, toiling on IN MEMORY OF again.
August 2, 2016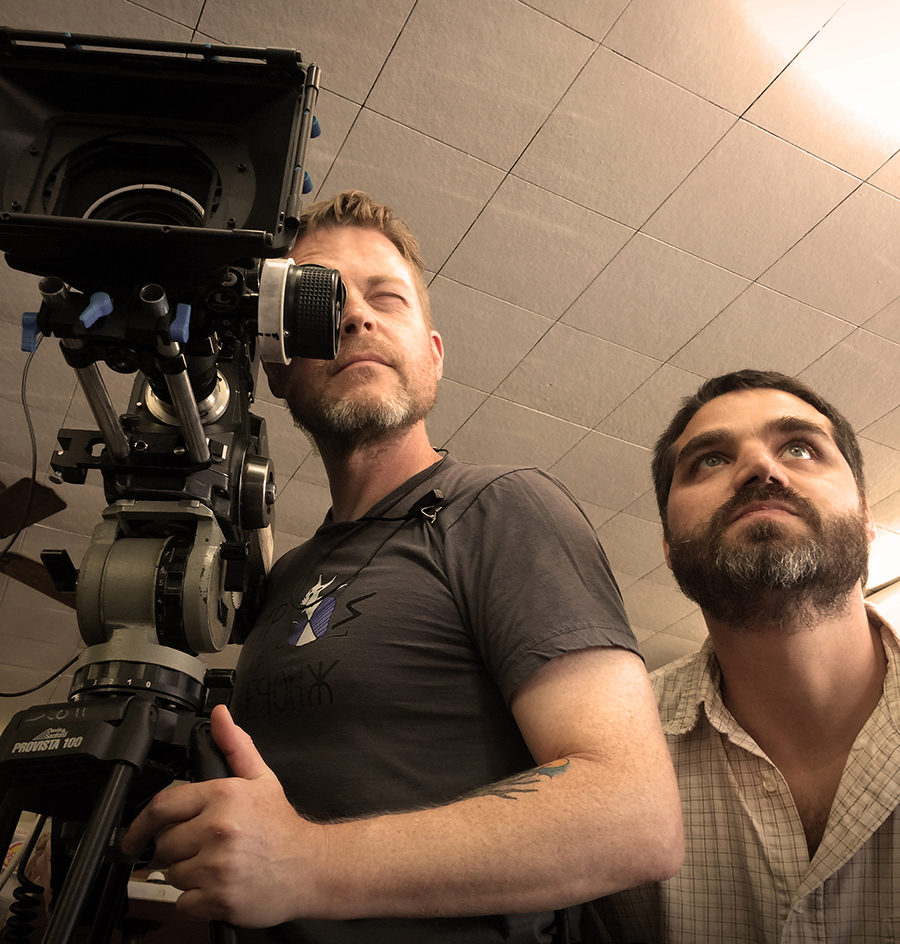 TENNESSEE GOTHIC has wrapped.  Unfortunately (for IN MEMORY OF) and fortunately (for my bank account) I've been booked on another Paramount Pictures behind-the-scenes documentary editing gig.  I'll be spending the next few weeks editing the ol' making-of's for ARRIVAL, directed by Denis Villeneuve (PRISONERS, ENEMY, SICARIO, and the upcoming new BLADE RUNNER film).  As soon as these docs are delivered, I'll be back to IN MEMORY OF post-production.
September 2, 2016
My calendar is now dominated by my current editing gig – creating the behind-the-scenes documentaries for Paramount Pictures' Blu release of ARRIVAL.  This editing job (which will be my full time gig until this Halloween) initially bummed me out in that it meant a huge gap in IN MEMORY OF editing.  Between being on the TENNESSEE GOTHIC shoot for the entire month of July, and the making-of editing for ARRIVAL, four months will pass with no work being done on IN MEMORY OF.
However, now that I am at the mid-point of this four-month gap, I am realizing the positive aspect of stepping away from IN MEMORY OF for a spell (in addition to the fact that my ARRIVAL doc editing will put enough bucks in my pocket to sustain me for months while I again make IN MEMORY OF my full-time obsession).  My step-back from IN MEMORY OF has actually helped, creatively.  I've found myself conjuring fresh ideas, ways to make a scene work better, things I don't think I would have thought of in the thick of high-gear editing, working long hours, day after day.  Turning away from IN MEMORY OF for a wee bit and taking a breath – it's actually helping… and I'm jotting all these fresh ideas down so I can try 'em all out when I am back into IN MEMORY OF post-production this November.  While this four-month gap is, sadly, a delay, I do believe it is also helping me shape a better film.
October 1, 2016
I'm well past the half-way point in editing the behind-the-scenes documentaries for Paramount Pictures' Blu-ray release of ARRIVAL, directed by Denis Villeneuve (acclaimed director of SICARIO, ENEMY, PRISONERS, the brilliant INCENDIES, and the upcoming BLADE RUNNER sequel).  This ARRIVAL documentary editing job (which will remain my full time gig until this Halloween) is a most welcome heavy workload because A: I need the paycheck, and B: ARRIVAL is an outstanding film.  It's intelligent science fiction by a filmmaker who I have come to consider one of the best directors working today.  Just like I was proud to have edited the behind-the-scenes documentaries for ANOMALISA (another excellent, smart movie for grown-ups) I'm proud to be one of the shepherds of ARRIVAL's behind-the-scenes documentation.
This doc project represents an intimidatingly enormous amount of work on a too-short deadline, but I'm still very happy to have the gig.  After Halloween, it's a couple days to catch my breath, then I'm back into editing IN MEMORY OF.
October 29, 2016
I am nearly finished editing the behind-the-scenes documentaries for Paramount Pictures' Blu-ray release of ARRIVAL.  I turn in the final revisions November 5th.  This was a massive, draining editing project, and my brain is now pretty mushy.  After November 5th, I'll take a wee breather, then dive back into IN MEMORY OF editing!
December 1, 2016
IN MEMORY OF editing is in full swing again.
On day 1 of IN MEMORY OF production, we began shooting the most visually dense scene in the film: Scene 45, or The Corridors Scene.  And one shot for Scene 45 was our final shot of the day at the end of production.  Over the course of our 46 day shooting schedule, we spent an additional two full days and several half days shooting weird nightmare imagery to pack into this scene.  Then we shot two or three more bits for Scene 45 during post-production pickups last March.  The Corridors Scene is a 3-and-a-half minute abstract visual free-for-all indicating the main character's spiral into madness.  Each shot in this fairly quick-paced sequence is a new deal:  New location or part of a location, new camera setup, all new lighting setup – and the lighting for each shot was stylized and complex.  So we spent more time shooting this scene than any other in the movie.
The magnitude of Scene 45 carried over into post-production, as constructing the scene out of the mountain of material we shot was an enjoyable challenge.  I finished editing the scene months ago, but I've gone back and made tweaks – as recently as yesterday – many times since then.  Sound design was a big challenge as well.  Achieving a thick, driving, overwhelming, fever-dream cacophony to go with the insane visuals meant layering numerous sound effects – from goats bleating, to babies crying, to chains rattling, to steam venting, and so on.  While struggling to get the scene to finally gel, I cut four different versions of the scene, each with a different piece of music – one original track from score composer Rocky Gray, and three sinister / tribal / pounding / industrial songs from the band Wychdoktor.  In the end, I selected the Scene 45 version with one of the Wychdoktor tracks.  The mix was a nice challenge too.  Make it music-driven, with the sound design boiling in the background?  Or bring the sound design up front, and let the music be a quieter undercurrent?  What worked best was mixing it all at nearly the same level.  This created a nicely unnerving wall of nightmare sound, which supported our hellish visuals perfectly.
January 1, 2017
I've been working on Scene 70, one of the more complex sequences in IN MEMORY OF.  We shot more footage for this scene than any other in the movie.  It's a disturbing, very strange sex scene… with many notable aspects, including the fact that in this sex scene, everyone keeps their clothes on.  There is no nudity.  Well, you'll glimpse DJ Vivona's bare ass… but that's it.
The scene is complex – and challenging to edit – because, first of all, it's very long.  Secondly, the scene was heavily covered with numerous camera set-ups, resulting in the above-mentioned mountain of footage.
And to top it off, the scene features five characters in one small room – and due to scheduling issues, we never had all five actors on set at the same time.  So the scene must be edited in a way that creates the illusion that DJ Vivona, Jackie Kelly, Adam Ahlbrandt, Haley Jay Madison, and Jim Ousley are all in the same room at once.  In reality, Adam and Haley were shot on one day.  Shots with Jackie and Jim were shot on another day.  And shots with DJ and Jackie were shot on a third day.
Despite the extra effort the scene is requiring of me in post, it's coming together nicely.  Very weird.  Very dark.
February 1, 2017
This is a behemoth of an editing job.  I've never made a film that was so challenging in the post-production phase.  The first reason for this is the incredibly fast cutting pace.  Because each shot lasts an average of just over a second, I'll work all day editing and get only a couple of minutes of the film cut.  The sluggish pace of this process is driving me mad.  Secondly, I'm fixing technical issues with the location sound every other scene.  Extremely frustrating.  In pre-production I took some less-than-stellar advice on the recording of our location sound – and subsequently our location sync sound is, for most scenes, a major problem in post.  It's all getting fixed.  And in the end, IN MEMORY OF location audio will sound as good or better than my past movies.  But working through the technical issues is adding months to the post-production process – in addition to adding to my madness.
On a positive note, I just finished cutting Scene 79, which takes place in a dilapidated hotel – and I am extremely happy with the sequence.  We shot this scene in an actual crumbling hotel in Irondale, Missouri.  The day of shooting was chaotic.  We had the location for a single day, there were numerous complicated camera setups, and from the first shot of the day, we were in a panic, racing the sun.  When the sun set, and our daylight was gone, we were done, whether we got all of our shots or not.  Thankfully, despite the intense pressure, we got all of our shots – and the scene came together wonderfully.  In it, actors Jackie Kelly and Gus Stevenson interact with Jason Christ, who appears to them on an old television.  Jason's side of the scene was shot on Day One of the shoot, and it had to be edited in advance for playback a few weeks later on the abandoned hotel shoot.  In a film overflowing with surreal scenes, this is one of the most surreal.  It turned out very cool.  Very cool and very weird.
IN MEMORY OF follows the character of Amber Sheridan (played by Jackie Kelly) as she drives through Missouri, Oklahoma, Texas, New Mexico, Arizona, Utah, and finally Colorado.  In terms of the editing, Amber is currently about three-fourths of the way through the Arizona leg of her journey.
March 1, 2017
IN MEMORY OF follows the character of Amber Sheridan as she drives through Missouri, Oklahoma, Texas, New Mexico, Arizona, Utah, and finally Colorado.  In terms of the editing, Amber is currently about half-way through the Utah leg of her journey.  Only a state and a half to go!
My frustrations over the last month have included continuing to wrestle our location audio technical issues into submission, and spending longer than usual on Scene 95, Jason Allen Wolfe's only major sequence in the film.  Scene 95 – a dialog scene between Jason Wolfe (who previously starred in my film DEADWOOD PARK) and Jackie Kelly – should have been a fairly simple sequence to edit… but it really fought me.   All turned out great in the end, though.
Otherwise, post-production is going extremely well.  A week ago, Jackie Kelly, Gus Stevenson, and I shot a small handful of post-production pickups (which required Mr. Stevenson to hop into a shower, get drenched, and be doused in blood again).  The pickups were quick and easy – and I enjoyed breaking from the edit to briefly jump behind the camera again.  As we can now see a light at the end of the IN MEMORY OF post-production tunnel, next week we'll be shooting cast and crew interviews for the behind-the-scenes documentary Trevor Williams is producing for the Blu-ray release.
March 31, 2017
In IN MEMORY OF, the main character, Amber Sheridan, drives through Missouri, Oklahoma, Texas, New Mexico, Arizona, Utah, and Colorado. In terms of the editing, Amber is currently in Colorado, the final locale of her road trip.
It is interesting how a movie reveals its true personality in post-production. IN MEMORY OF was, in the writing stage, inspired by 70s road trip films like TWO LANE BLACKTOP, early Cronenberg sci-fi / horror films, and "rubber reality" horror movies like A NIGHTMARE ON ELM STREET. However, here in the final stages of editing, IN MEMORY OF feels more like an epic and surreal fever-dream adventure – much more like a Jodorowsky film like EL TOPO than the road trip films and horror pictures that influenced us while writing the screenplay.
I'm currently editing some "happy times" for Amber – the hours of relief she feels after finally reaching her destination and achieving her goals. But the rug soon gets yanked from beneath her feet, and said "happy times" quickly disintegrate into the film's final violent, blood-soaked events that pummel Amber deeper into her madness.
April 14, 2017
I've started editing on the final sequences of the film – the blood-soaked action sequences that take us up to the end credits.
June 1, 2017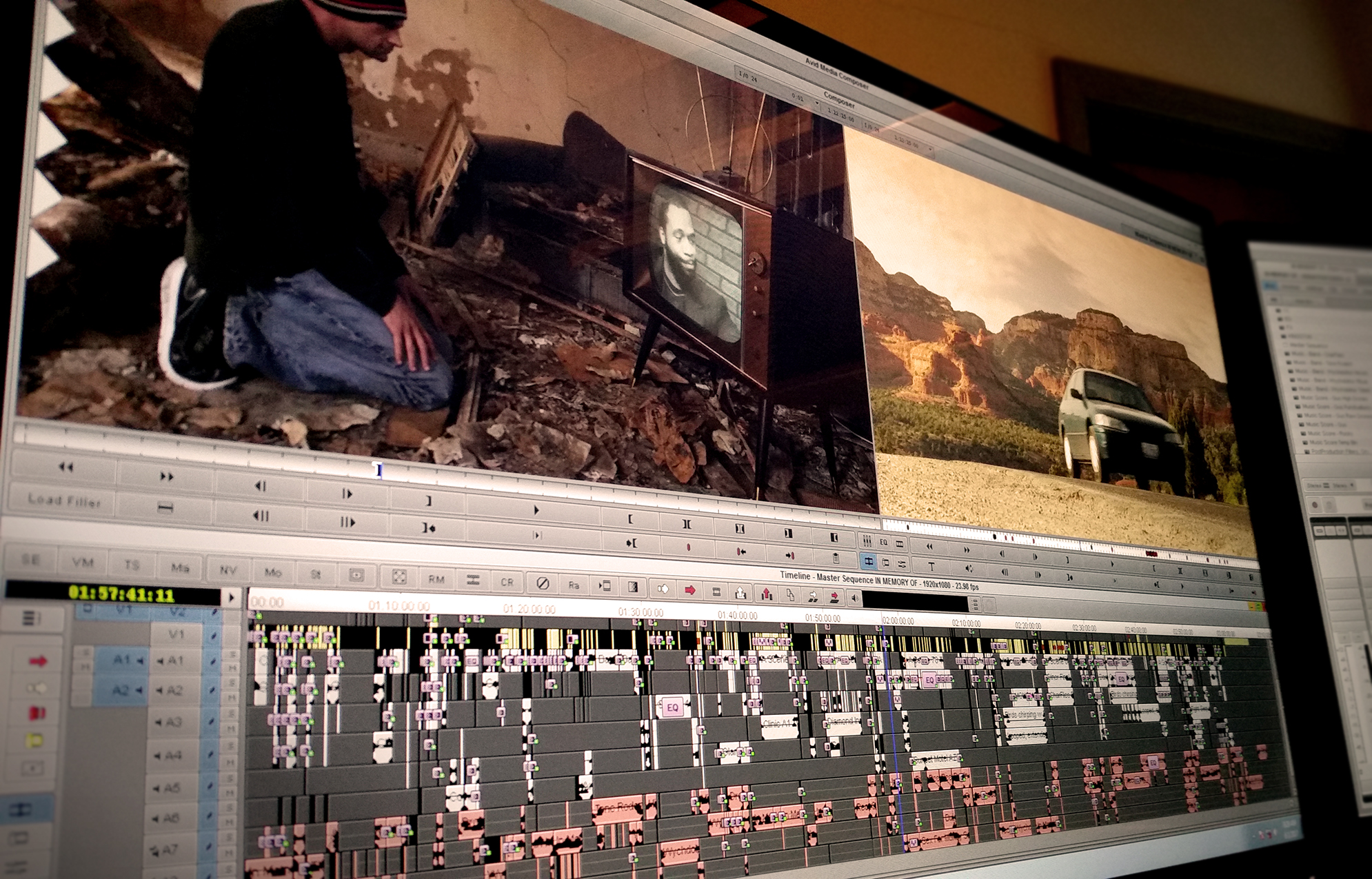 I now have a full first cut of IN MEMORY OF.  Picture / voice editing, from open logo through the end credits, is 100% complete.  Sound editing (dialog, sound design, music) is 100% complete.  The sound mix is 90% complete.  Color correction is 95% complete.   Visual effects assigned to me are 95% complete.  Visual effects assigned to Trevor Williams are about 25% complete.
Throughout June, we'll be finishing the sound mix, color correction, and visual effects.  I'll also be fine-tuning the cut – tweaking and trimming a bit here and there, and deciding if there are any full sequences currently on the timeline I should remove entirely.
June will also see us moving into the final mastering phase, prepping the movie for blu-ray authoring and film fest submissions.  Simultaneously, others on the team will be toiling on the post-production of the in-depth behind-the-scenes documentary on the making of IN MEMORY OF.  This documentary will be included on the blu-ray, along with a respectable haul of additional bonus goodies.
With a first full cut complete, the run time is a whopping two hours and five minutes.  If the film stays at this run time, it will be the longest film I've ever directed, and my first to go over two hours.  Watching the movie start to finish right now, it's briskly-paced and nothing seems to drag – so I don't think the longer running time is a problem.  But June's workload will hopefully shine a light on any sequences the film should do without.  So, we'll see if the run time remains 125 minutes or not.
June 30, 2017
I've trimmed about a minute out of the movie and made many new, small tweaks to the sound mix and color correction.  The sound mix and color correction are now 100% done.  I'll be screening this cut of IN MEMORY OF for producers Jason Christ, Jim Ousley, and Gus Stevenson in two days.  After that I expect a few days of final, final tweaking.  Changes following this screening should be minimal – likely just trimming a bit more out of the film.  If I had to guess right now, though, I'd still say IN MEMORY OF will be my first film to run longer than two hours… but we'll see what fresh insight this screening provides!
Jason Christ and Trevor Williams have also been toiling on the post-production of the behind-the-scenes documentary that will be on the Blu-ray.
IN MEMORY OF's visual effects are about 75% done.  A quick note about our visual effects:  As a film fan and filmmaker, I much prefer my special effects to be in camera, not created in post-production.  So, all of IN MEMORY OF's special effects are practical, not VFX.  We are only using post-production VFX to make small changes to certain shots – to remove something that should not have crept into the frame (like a cable or a blood tube) or to fix a glaring continuity problem.  All of the bloody stuff was done on set, in front of my lens.
So the movie is essentially finished, but with everything we're pouring into the Blu-ray release, there is still a lot of work to do.
The total salary I'm making on this film is zero dollars and zero cents.  Funds are starting to run low.  I may be taking another big paid documentary editing job very soon, which will pay the bills for awhile, but will also slow IN MEMORY OF's trek to release.  Still, I'm feeling confident IN MEMORY OF will be released this year.
July 17, 2017
IN MEMORY OF is complete.  Color correction, sound mix, and the final VFX shots are all done.  With the trims I've made following a few screenings for my fellow producers, the original 125 minute run time has been reduced to 122 minutes.  My first movie to run longer than two hours.
The first preview trailer for the film is also complete – but I'm not yet sure when and where we'll unveil it.
In a few days, I will be setting aside IN MEMORY OF to take on a freelance editing job, so I can make some bucks to pay the bills.  This new gig is again for Paramount, editing the behind-the-scenes documentaries for Paramount's Blu-ray release of SUBURBICON, directed by George Clooney, from a screenplay by Grant Heslov and Joel and Ethan Coen.
I've had to put IN MEMORY OF on pause for freelance money-makin' gigs multiple times since post-production began – but this time things are significantly different.  During past freelance editing gigs, IN MEMORY OF came to a complete halt.  However, this time around, other members of the team are able to keep up the IN MEMORY OF momentum, including Trevor Williams and Jim Wayer, who are both working ahead on release and promo shenanigans.  And Jason Christ will continue editing the behind-the-scenes documentary for IN MEMORY OF while I am sitting mere feet away from him on the other Avid, editing the behind-the-scenes documentaries for SUBURBICON.  The fact that IN MEMORY OF progress will slow a bit – but not stop – makes me very happy.  A lot of people have been eagerly but patiently waiting for this film's release, but nobody is more looking forward to it than me!
September 1, 2017
I am currently editing the behind-the-scenes documentaries for the upcoming Paramount Pictures Blu-ray release of SUBURBICON, directed by George Clooney, written by Joel and Ethan Coen, starring Matt Damon, Oscar Isaac, and Julianne Moore.  I'm editing a general documentary on the making of the film, plus two short docs – one on the casting of the film, and one on the music score.  I'm about mid-way through this editing job.
As I edit for Paramount on one Avid, Jason Christ sits mere feet away from me on the second Avid editing the behind-the-scenes documentary for our IN MEMORY OF Blu-ray release.
Pictured below is Jason – looking a bit loopy while sifting through a mountain of interview footage for the making of IN MEMORY OF.
October 1, 2017
IN MEMORY OF turned out to be less of a straightforward horror film and more the tale of one woman's epic, surreal, nightmarish journey.  One of the things I really love about the movie is how the multitude of interesting shooting locations give it such a unique tone.  In fact, I believe our "Shot On Location" list in the end credits is longer than it has been for any other movie I've made.  Check it out:
Shot On Location In
ST. LOUIS, MISSOURI
IRONDALE, MISSOURI
FESTUS, MISSOURI
HILLSBORO, MISSOURI
HERMANN, MISSOURI
FENTON, MISSOURI
BRIDGETON, MISSOURI
ST. CLAIR, MISSOURI
VALMEYER, ILLINOIS
CLINTON, OKLAHOMA
SHAMROCK, TEXAS
TUCUMCARI, NEW MEXICO
SANTA FE, NEW MEXICO
SEDONA, ARIZONA
FLAGSTAFF, ARIZONA
MEXICAN WATER, ARIZONA
BLUFF, UTAH
MOAB, UTAH
Here at the top of October, I am in the final stages of editing my SUBURBICON behind-the-scenes documentaries for Paramount.  As soon as this paycheck gig is complete (in a week or two) I'll immediately dive into all the work there is to do for IN MEMORY OF's release.  Currently, Jason Christ is making great progress on the editing of IN MEMORY OF's behind-the-scenes documentary, which will be included with the film's Blu-ray release.  Jason has also been plowing forward with our plans for IN MEMORY OF film festival screenings.
November 2, 2017
With my big SUBURBICON documentary editing job complete, I'm now back into toiling on all things IN MEMORY OF Blu-ray!  Had a productive sit down with Trevor Williams yesterday to go over a big stack of technical stuff.  Gus Stevenson is in the early stages of designing the Blu-ray menus, and I'll be working closely with Jason Christ over the next few weeks on the hefty bonus goodies the IN MEMORY OF Blu will have.
December 1, 2017
While IN MEMORY OF has been complete for months, we are still toiling on the supplemental materials for the Blu-ray release.  I'm frustrated that we are not closer to release than we are, but we are making great progress every day.  Other than my recent bill-paying freelance gigs, the Blu-ray release of IN MEMORY OF has been my full time job since the film was completed.  Please have patience – and know we are putting tremendous effort and our full dedication into making IN MEMORY OF's release worth the wait!
This is subject to change, of course, but at this time it looks like the supplemental materials will include two commentary tracks, deleted scenes (with optional commentary), preview trailer, and a lengthy, in-depth behind-the-scenes documentary.
December 22, 2017
We're taking a wee break for Holiday / family shenanigans.  Work on the IN MEMORY OF Blu-ray supplemental materials kicks back in full force on December 28th.
February 1, 2018
Commentary tracks for the IN MEMORY OF Blu-ray have been recorded.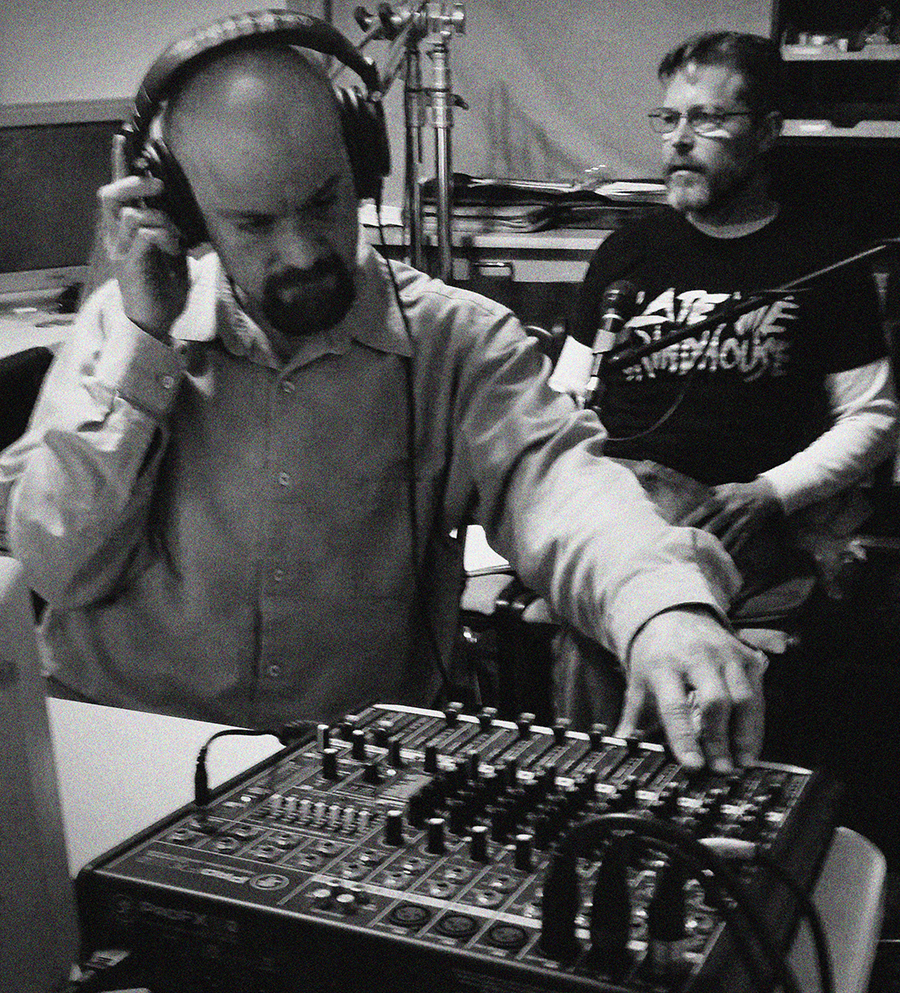 On January 29th, the first IN MEMORY OF preview trailer made its world premiere at DailyDead.com here.
February 16, 2018
I had a productive meeting with producer Jeremy Wallace this past week to discuss all things IN MEMORY OF distribution.  Gus Stevenson has started designing the Blu-ray box art.  And we're still toiling on the boatload of bonus material for the Blu!
April 1, 2018
After experiencing some technical problems that set us back just a few days, we got back on track and now finally have all the contents of the IN MEMORY OF Blu-ray release transcoded.  Tomorrow, Gus Stevenson will sit down to put the finishing touches on the Blu-ray authoring.  After that comes a heavy dose of QC, then the film ships off to replication.  Gus and I also hope to finalize the Blu-ray box art design tomorrow.
Last month, Rue Morgue released some fresh images from the film.  Click here to see.  March also gave us planet Earth's very first review of IN MEMORY OF.  Check it out here at Horror Society.
May 1, 2018
The IN MEMORY OF Blu-ray is in replication now.  When the replicated discs come in, we'll scrutinize them in one final round of rigorous QC.  If we spot no problems, as soon as we sign off on the discs we'll announce the release date.
Pre-release reviews of the film are coming in.  Jason Coffman of Daily Grindhouse calls IN MEMORY OF "Absolutely stunning… packed with unsettling, hallucinatory imagery… another standout feature from one of the most interesting filmmakers in modern independent horror."  You can check out the full review here.
May 29, 2018
Literally five minutes ago we completed the final round of QC on the IN MEMORY OF replicated Blu-rays.  Everyone on the QC team has signed off, so we're ready to release this beast.  The release date, complete list of the Blu-ray contents, and an advance clip from the film will be exclusively presented by DestroyTheBrain.com tomorrow.
Here's the final Blu-ray box art: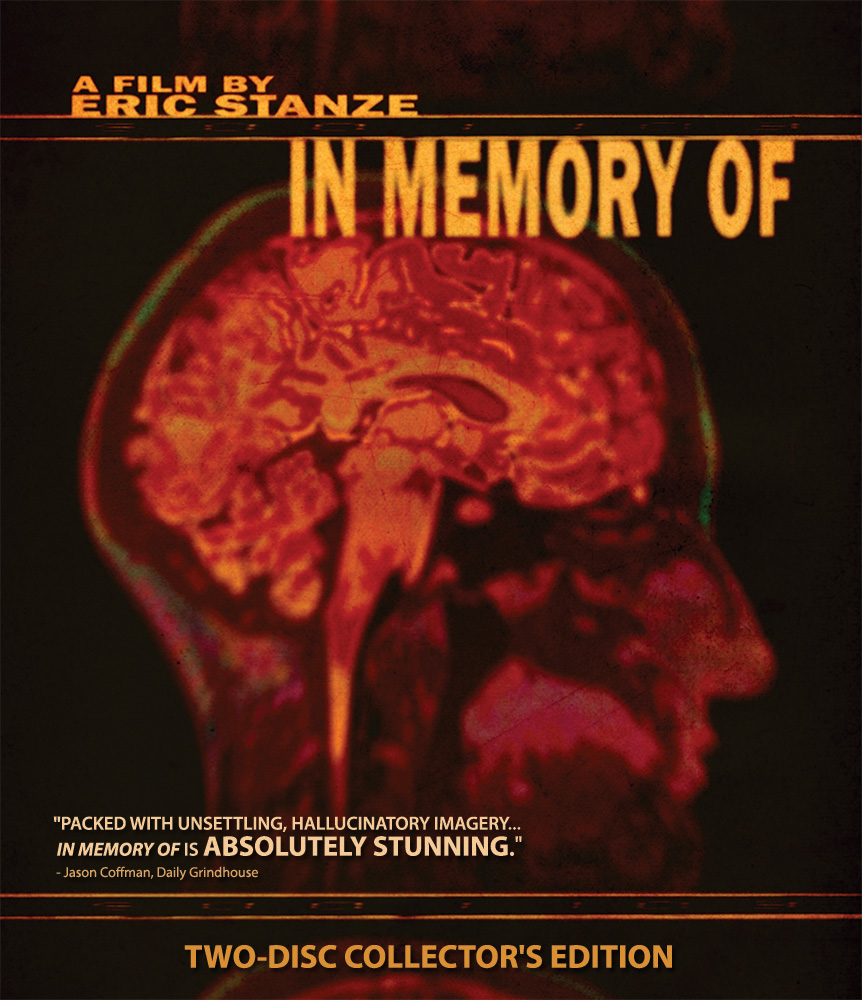 June 26, 2018
As I type this, the sun is setting.  Tuesday, June 26th – the IN MEMORY OF release date – is drawing to a close.  As the final day of this very long journey comes to an end, I cannot help but reflect upon the wild ride that was creating IN MEMORY OF… the hurdles, the triumphs, the stress, and the amazing people I collaborated with.
Over the several months we spent working on the Two-Disc Blu-ray release of the film, I had to watch the movie front to end many times, so I've already zoned in on IN MEMORY OF's flaws and the bits of the movie I know I could have pulled off better.  Still, I know it is the best film I've made so far, and I am extremely proud of it.  Only here at the end can I look back and see just how ambitious IN MEMORY OF was.  The endeavor of making the movie was massive, considering the budget and resources we had available to us.  Thankfully, I was working with a top-notch cast and crew, so we did not crumble under the magnitude of the project.  In fact, as a team, we pulled off something special, I think.
The entire experience of making IN MEMORY OF, and working with such incredible collaborators, was more fulfilling than anything else I've ever done in over two decades of directing movies.  This experience will remain with me for the rest of my days, and I will absolutely treasure the making of this movie for the remainder of my life.  We're getting great reviews for the film, and the fan response has been quite enthusiastic, so I should feel happy and triumphant.  But instead I feel the deepest gratitude.  I don't think a lot of people get to have a life experience that is so impactful and wonderful.  I don't take this for granted.  I'm extremely lucky.  I may have been under a tremendous amount of pressure and I may have had to deal with a thousand problems, but in the end, getting to make IN MEMORY OF was a rare and amazing gift.
If you supported this movie as soon as we announced it back in 2014, or if you ordered a Blu-ray last week, please know I appreciate it.  I thank you for your patience and your kindness.
And with that, the sun has set, and I submit my final entry in this journal, bringing to an official end the most wonderful chapter in my life so far.
Until the next one…