Production has begun on IN MEMORY OF, the new Wicked Pixel Cinema film, directed by Eric Stanze.  The movie stars Adam Ahlbrandt, director of acclaimed indie horror flicks CROSS BEARER and THE CEMETERY.  Ahlbrandt is currently directing and starring in two new films, HUNTERS and THE SADIST.  Pre-order IN MEMORY OF here!
Shooting has started on IN MEMORY OF, directed by Eric Stanze.
The film stars Jason Christ of ICE FROM THE SUN, THE UNDERTOW, DEADWOOD PARK, and RATLINE.  He is also a co-writer and a producer on IN MEMORY OF.  Click here to pre-order the film today!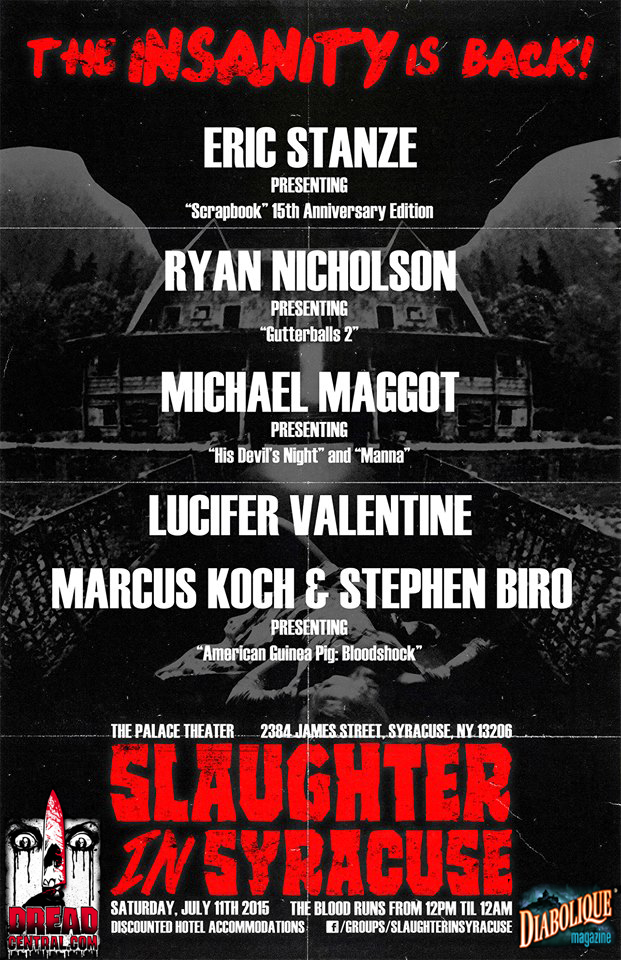 Director Eric Stanze will be the headlining guest at the 2015 Slaughter In Syracuse film festival event!
Celebrating its 15 year anniversary, SCRAPBOOK will screen for the only time in 2015.
The event runs July 10th through the 12th.  Films screen on the 11th.

RareHorror.com interviews Eric Stanze about his early influences, the best horror films of the past ten years, and his current project, IN MEMORY OF.  Read the interview here!
The 15 Year Anniversary DVD of SCRAPBOOK gets scrutinized at HorrorSociety.com!
"The first horror film that I have seen in my adult life that scared me…
Some of the most unnerving pieces of cinema I have seen to date…
Essential viewing for any horror fan."
– HorrorSociety.com