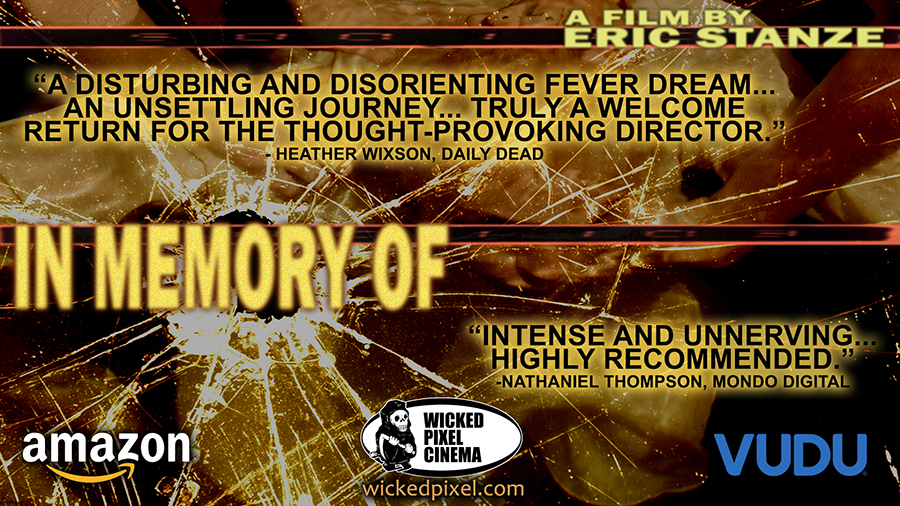 IN MEMORY OF, the new film from director Eric Stanze (ICE FROM THE SUN, SCRAPBOOK, DEADWOOD PARK, RATLINE) debuted on Blu-ray last year. The award-winning film has now rolled out to VOD and is available via Amazon and Vudu.
A fever-dream horror road-trip adventure film, IN MEMORY OF is also available on Blu-ray. The Two-Disc Blu-ray release includes a 93 minute making-of documentary, commentary track by director Eric Stanze, commentary track by actress Jackie Kelly, actor Jason Christ, and director Eric Stanze, a featurette on the film's original music score, and deleted scenes.
Shot in Illinois, Missouri, Oklahoma, Texas, New Mexico, Arizona, and Utah, IN MEMORY OF is a sprawling journey through madness that stars Jackie Kelly in her feature film debut. IN MEMORY OF also stars Jason Christ (RATLINE), Adam Ahlbrandt (director of CROSS BEARER and THE CEMETERY), Emily Haack (SCRAPBOOK), DJ Vivona (ICE FROM THE SUN), Haley Jay Madison (CHOPPING BLOCK, HEADLESS), Jason Allen Wolfe (DEADWOOD PARK, BAD GRANDMAS), and Katie Groshong (A MEASURE OF THE SIN, JUG FACE).
IN MEMORY OF features original music score by Gus Stevenson (RATLINE score composer) and two-time Grammy award-winner Rocky Gray, former drummer for the multi-platinum band Evanescence. The IN MEMORY OF Original Motion Picture Soundtrack is available via iTunes, Amazon, Spotify, Google Play, Deezer, CDBaby, and other platforms.