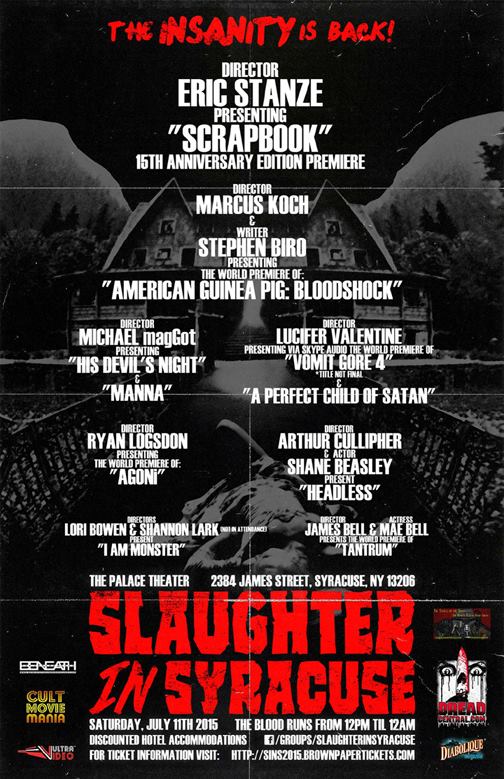 The 2nd annual Slaughter In Syracuse Independent Film Festival is poised to slay New York State with a three day event spanning July 10th, 2015 through July 12th.
The slaughter begins Friday, July 10th at 6:00pm at The Maplewood Inn with a special VIP Meet & Greet experience with the directors and actors in attendance.  The evening includes exclusive screenings of AMERICAN GUINEA PIG: BOUQUET OF BLOOD & GUTS (with director Stephen Biro in attendance, joined by special effects maestro Marcus Koch) and REVENGE IS HER MIDDLE NAME (with director Anthony Matthews in attendance).
SCRAPBOOK – 15th ANNIVERSARY SCREENING
The ONLY public screening of SCRAPBOOK that will take place in 2015!
SATURDAY, JULY 11th, 2015 – 9:30PM EST
Saturday, July 11th brings Slaughter In Syracuse to The Palace Theater, where director Eric Stanze will headline the film festival, screening his classic film of brutality and survival, SCRAPBOOK.  Stanze will be in attendance, participating in a Q 'n' A panel following the screening.
The other films screening July 11th include:
AMERICAN GUINEA PIG: BLOODSHOCK
DIRECTOR: MARCUS KOCH
HEADLESS
DIRECTOR: ARTHUR CULLIPHER
MANNA 
DIRECTOR: MICHAEL TODD SCHNEIDER (aka MICHAEL MAGGOT)
AGONi
DIRECTOR: RYAN VINCENT LOGSDON
AMERICAN REFLEXXX
DIRECTOR: ALLI COATES
Sunday, July 12th, the excitement continues at the Maplewood Inn with the Slaughter In Syracuse Collector Con, starting at 11:00am, featuring vendor booths with everything Horror and Sci-Fi related.
Get all the details here!